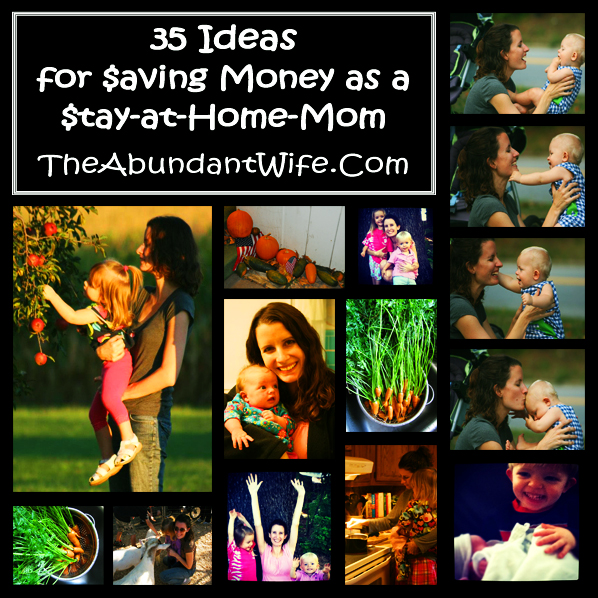 After four years of teaching art, and two years of teaching English in China, I became a Stay-at-Home-Mom in 2009.  I've had to learn a lot about saving money as a SAHM since then!  If you're a new mom, or are considering staying at home with your children, I've compiled a list here of some of the things we have tried.  I would not attempt everything on this list at once, or you'll be overwhelmed!  Choose one or two things at first, and see if they work for you.  If they work for you, then great!  If they don't work for you, forget about it and try something else.  The last five items on this list might not save you money directly, but they are good for your finances nonetheless!
1. Cloth Diaper your Children (Cloth Diapering 101: Part 1 and Part 2)
2. Hang your Clothes Out to Dry (Life Without a Dryer)
3. Become a One Vehicle Family (Life Without a Second Car)
4. Plant a Garden (Our Compost Garden Harvest, Our Carrot Crop, Our Compost Garden Runneth Over, Free Flowers, Our Compost Garden: The Harvest, Our Compost Garden)
5. Meal Plan (Meal Planning on a Budget: Part 1 and Part 2)
6. Cook from Scratch (Food, Cookbook Review: Simply in Season, How to Cook a Jack-O-Lantern Pumpkin, Homemade Frappuccino)
7. Use What You Have (How to Be Generous When You're Just Scraping By, Get Your Home Guest-Ready in 30 Minutes or Less, Liquid Gold)
8. Try Freezer Cooking (Freezing Lemon Juice and Lemon Slices, Freezer Cooking: Burritos, Freezer Cooking for a Vacation, 10 Things I Learned from my First Attempt at Freezer Cooking)
9. Read Books (Finding Time to Read, 7 Ways to Find Inexpensive Books, 8 Financial Books for Beginners, Free Books!)
10. Give your Children Simple Toys and Activities to Do (Paper Bag Play, Homemade Play-Doh, Legos, Leaf Rubbings, Frugal Bathtime Fun, 3 Jack-O-Lantern Crafts for Halloween, Butcher Paper Drawing, Toothpicks and Marshmallows, 20 Frugal Field Trips, Pancake Names, Celebrating Birthdays on a Budget, Homemade Play-Dough, Face Painting, DIY Finger Paints, Orange Tree Painting, Milk, Food Coloring, and Soap Experiment, Animal Magnets, Easy "Gingerbread" House, Birthday Pancakes, 10 Fun Things to Do Outdoors, Glow Sticks in the Bathtub, Chores for Toddlers, How Can I Find Free Activities in My Town?  Free and Easy Toddler Toys, A Frightfully Frugal Halloween, Oatmeal Container Straw Game, Sidewalk Chalk Outlines, Autumn Tree Paiting, Naomi's Box-of-Fun, Counting with Toddlers, Free night at the Carnival, Our 4th of July Stay-Cation, Weekly Staff Party, 10 Rainy Day Activities for Toddlers, Five Years of Frugal Halloweens, All Things Pumpkin, 15 Frugal Activities for Autumn, Hammer Time, Coloring with my Kids, Folding Clothes, Washing Dishes)
11. Make Homemade Gifts (A Painted Box for Kristy's Birthday, DIY Handprint Flowers, My Surprise Birthday and Valentine's Day Gift, Homemade Christmas Cards)
12. Shop Around (3 Ways We've Saved Money Recently, How to Save on Phone, Internet, and Cable Services, 3 Ways We've Lowered Our Utility Bill, Yard Sales 101, My First Craigslist Purchase, 7 Items at Old Navy for $17!  7 Tips for Appealing your Medical Bills, How to Get a Good Deal on Towing Your Car, How to Find Inexpensive Greeting Cards On-Line, How to Get at Good Price for Tires, Check the Blogs Before You Shop, Inexpensive Laundry Detergent, A Unique Phone Call from Verizon, Cheap Children's Clothing, Twice: Beautiful Clothing Should Be Loved Again)
13. Play the Drugstore Game (The CVS Drugstore Game: 3 Items for $3.13!  The Drugstore Game: All this for $2.39!  Black Friday Shopping at CVS, I'm Published!  The Drugstore Game Returns, The Drugstore Game: Failure & Success, The Drugstore Game: Take 3, The Drugstore Game: Take 2, How NOT to play the Drugstore Game)
14. Pay Bills On-line (No Stamps!)
15. Create a Budget (Mvelopes: Online Envelope Budgeting, Our Monthly Budget)
16. Cash in Your Rewards (How I Made $222 in October)
17. Make Swagbucks Your Search Engine (How I Made $222 in October, Swagbucks Special Offer: How I Made $20 by Signing Up for eMusic, Earn 1000 Swagbucks with Netflix!)
18. Find FREE stuff (Freebie Friday!  What can I do with all these free magazines?  Shutterfly Holiday Cards House Party, Your Local Public Library, Use Those Freebies!)
19. DIY (A Pink Princess Party, Birthday Morning: Doorway Surprise, DIY Facial Cleanser, DIY Laundry Detergent, Watermelon Shark Attack!  A Painted Bus Stop Bench)
20. Be Resourceful (Keeping Cool When It's 110 Degrees Outside, 9 Mini Home Improvements, How to Survive Moving In with Your Parents, How to Survive a Lay-Off, Cross-Country Air Travel on a Tight Budget, A Little Wood Glue Goes A Long Way, Sewing with Shirley)
21. Sell Your Used Items (Make Money Selling Your Used Books on Amazon.Com, How I Made $200 in August, The easiest (or at least the most amusing) $100 we ever made, How We Save on Big Ticket Items, Monkey See, Monkey Do)
22. Learn to Cut Hair Yourself (Free Haircuts for a Family of Four, How to Cut Your Husband's Hair, How to Thin Your Toddler's Bangs)
23. Decorate on a Dime (Repainting our Hallway, The Birch Tree Project: Part 1 and Part 2, Autumn Window Collage, Inexpensive Autumn Decor, 5 Inexpensive Ways to Create a Cozy Master Bedroom, 5 Inexpensive Ways I've Updated Our Bathroom, Decorating for Christmas on a Tight Budget, Frugal Decorating Tip: Display Seasonal Library Books, DIY Halloween Window Painting, How can I decorate my home inexpensively for autumn? How can I update my bathtub and shower?  Love Your Rental: Clean Up the Exterior, How can I get a good deal on window treatments?  How can I update my rental property inexpensively?  Redecorating Our Basement Apartment)
24. De-Clutter (De-Cluttering: Trash it, Sell it, or Donate it)
25. Swap (Peace.Love.Swap.)
26. Utilize Your Gifts and Abilities (How I Made $221 in September, The Cost of Substitute Teaching in California, Getting to the Wedding: Part 1 and Part 2)
27. Refinance Your Home (Refinancing? Part 1, Part 2, Part 3, and Part 4)
28. Reduce (Take the "Date Your Shampoo" Challenge!)
29. Reuse (Organizing with Ice Cream Tubs, Empty Plastic Canisters, Sort Recipes in Recycled Envelopes)
30. Recycle (How I Made $170 in One Month, 7 Tips for Turning Your Trash into Cash)
31. Stay Off the Computer (An UnPlugged Weekend)
32. Get Up Earlier (How Changing My Morning Changed My Whole Day, 30 Days of Praying for your Local High School, Frumps to Pumps Challenge)
33. Love Your Husband (5 Cheap Date Ideas for You and Your Spouse, An Ordinary Fairy Tale, 1,000 Day Honeymoon, 50 Ideas to Inspire Your Husband, 7 Love Letters in 7 Days, Praying for Your Husband)
34. Tithe (Tithing Through the Hard Times)
35.  Be Thankful!  Have an "abundance mentality" instead of a "scarcity mentality."  A heart full of gratitude is always happier than a heart full of worries and complaints. (Do Not Forget The Things You Have Seen, Pruned to be More Fruitful, Paying Off Debt=Pain With A Purpose!  A Slice of Heaven, Home Sweet Home )
What suggestions would you add to my list?