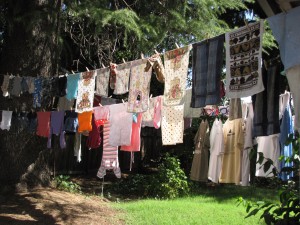 There are many ways to save money when you are trying to pay off your debts.  One way that we have saved money is by going without a dryer.
When Brad and I bought our first home in 2005, it came with a washer and dryer included.  We never considered living without a dryer.  However, when we moved to China for 2 years in 2007, we quickly learned that dryers are uncommon in China.  We learned to hang our clothes on the rows of clothesline in our apartment's little porch.  We used a stick with a hook on the end to hang clothes up high, or climbed up on a chair.
In 2009, we moved to Minnesota with our 2-month-old cloth-diapered daughter.  A friend found a tiny upstairs apartment for us, just a few blocks from the high school where Brad would be leading youth ministry.  The only catch was, the apartment didn't have a washing machine or dryer.  We spent a couple weeks doing our laundry at the laundromat before we finally broke down and bought a portable washing machine at Sears.  We still didn't have a dryer though, so we hung our clothes all over the apartment until we bought two drying racks.  On warm days Brad would sit the drying racks out on the porch roof so that our clothes would dry faster!
In 2011, we moved to California.  A friend found a great deal on a washer and dryer at a yard sale, so we bought both.  However, by now we were adapted to hanging our clothes.  We noticed higher electric bills when we dried our clothes, and clothes that we'd worn for years began to wear out quickly.  So we went back to line drying our clothes.  We do still dry our clothes in the dryer on occasion–usually when the weather is cold or rainy, or when a particular item is needed in a hurry.  The weather here is so pleasant most of the year, that our clothes dry quickly in the warm sunshine.
At this point, we've gone 3 years without a dryer by necessity, and 2 years without a dryer by choice.  Although it took a lot of adjustments at first, it has now become a part of our lifestyle.
Have you ever tried living without a dryer?