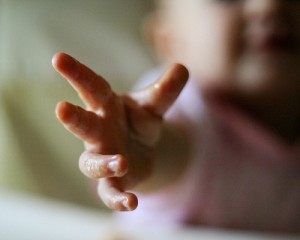 Earlier this month, Naomi celebrated her second birthday!  It is so exciting to make discoveries together as she is more aware of her surroundings and more vocal than ever.  One of those exciting discoveries is COUNTING!
We have been COUNTING all kinds of things around here, and Naomi is picking up on them quickly!  Here are a few suggestions for things you can COUNT with your toddler.  I'm sure you'll think of more suggestions to add to my list!
COUNT with your toddler holding your hands, swinging between two adults.  "One, Two, Three, Whee!!!"
COUNT your toddler's fingers and toes.  Mix it up by singing the "Itsy, Bitsy Spider" or "This Little Piggy."
COUNT when you walk up or down the stairs with your toddler holding your hand.  They can repeat each number after you.
COUNT when you cook, as you scoop with measuring cups or spoons.
COUNT when you serve food, sort laundry, or distribute other items to your toddler.
COUNT when your toddler jumps off the side of the pool or slides down the slide into your arms.
COUNT when you read to your toddler and point to the images on the page.
What other ways have you found to incorporate counting into your toddler's daily activities?