Last week Brad and I were making plans to attend Creation 2011 in Mount Union, Pennsylvania.  After some more research though, we realized that the cost of tickets, food, and gas to get there would cost us at least $250-$300.  (Creation is much less expensive if you plan further in advance…and much easier if your children are older than ours.)  That was more than half of the money we had budgeted, and we still have vacation time with our families later this summer!  On top of that, we had to buy new tires for one of our cars, which was an unexpected expense.
So we decided instead to have a stay-cation, and stick closer to home.  Here are a few photos of our inexpensive stay-cation!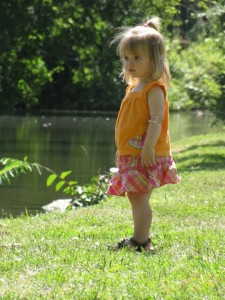 Day #1: On Friday (July 1) I had to take Naomi for her two-year-old check-up.  After the doctor, we headed for the park.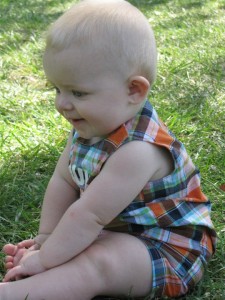 When we finished visiting with the ducks along the creek, we headed over to the wading pool to cool off!  Cost: $6 for pool admittance.
Day #2: On Saturday (July 2) we packed up the kids for a day at the National Zoo in Washington D.C.  We had a great time, despite the heat.   Naomi loved the tortoises, lions, tigers, gorillas, panda, and birds.  She was scared of the elephants at first (and ran away in tears), but warmed up to them eventually.  We packed our lunches and ate along the way.  Cost: $20 for parking, and fuel for the car.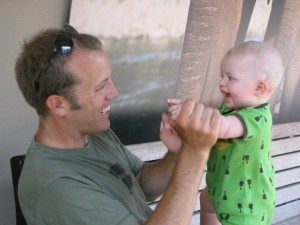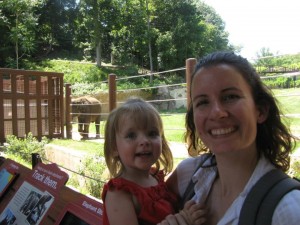 Day #3: On Sunday (July 3) we went to church, and then headed over to Brad's best friend Michael's house for their annual 4th of July picnic.  As always, there was plenty of food to go around, and Michael planned games for all the kids.  Brad enjoyed challenging Michael to a badminton tournament, and Naomi enjoyed following the older kids everywhere.  Cost: FREE!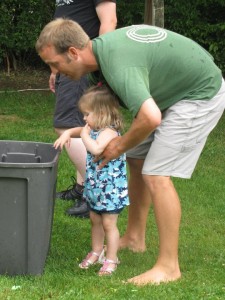 Day #4: On Monday (July 4) I moved the kids' car-seats into my parents' van to visit my Dad's family in Baltimore, Maryland.  It was great to see my Dad's brother, sister, nieces, nephews, and cousins, many of whom had not met my children yet.  When the afternoon potluck was over, we went to the park for the annual fireworks show.  We had a great time despite the rain, and the kids watched the "pretty lights" in awe.  Cost: FREE!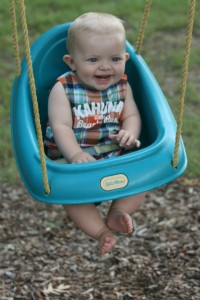 Day #5: On Tuesday (July 5) I had the unexpected pleasure of a mini-reunion with two of my college roommates.  Cheryl (from Ontario, Canada) was visiting Clarissa (from Washington state).  I was surprised to find out that Clarissa had moved to Washington D.C. three years ago, with her husband and now one-year-old son.  So we had a delightful reunion at Panera Bread.  Cost: $13 for two meals, and fuel for the car.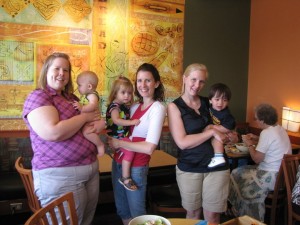 Have you ever had a stay-cation?  What did you do to make your 4th of July special this year?