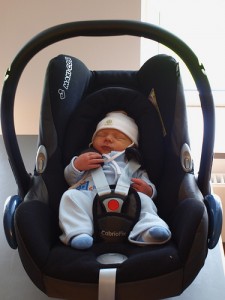 Way back when Brad and I were newlyweds, we were scrimping and saving…and wait!  This sounds all too familiar!  Anyhow, I spotted a car seat on the side of the road, with a sign on it reading "FREE."  I told Brad that we should pick it up because, although we didn't have kids, I knew these items could be expensive and someone else might want it.
So we took it home and he listed it on Ebay.  It wasn't long before someone commented on the car seat, and told us that it had been recalled so we shouldn't sell it.  Our disappointment turned to delight when they suggested that, if we contacted the company, they might give us a refund for the recall.  Brad contacted the company, and they explained that if he would remove all the upholstery from the seat and mail it to them (proving that it had been destroyed), they would mail him a check for the value of the seat.
And that is how we made $100 on a car seat we found by the side of the road.
Do you have any funny money-making stories?