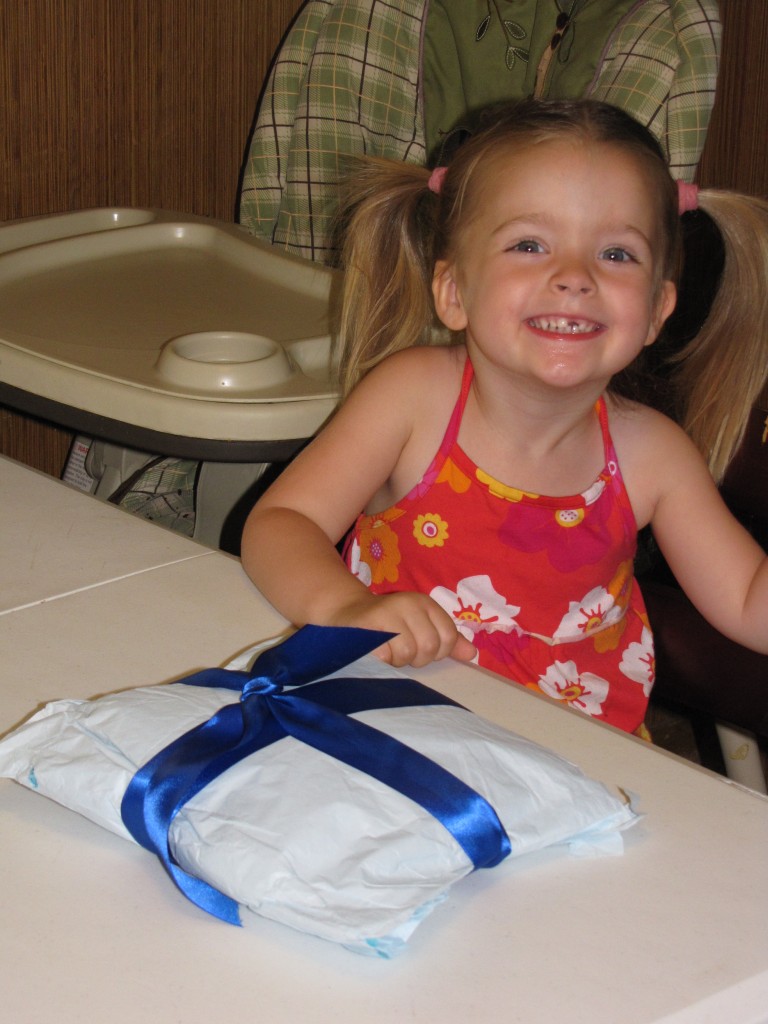 Most of the birthdays in Brad's and my families are during the winter or summer months.  This means that we are buying a lot of gifts from June to August and December to February.  When you're trying to "live like no one else," it can be difficult feeling like you cannot give gifts or throw parties like those you see every day on Pinterest.  Don't give up hope though!  Here are a few suggestions for how you can still give generously on a budget:
Make a homemade cake or cupcakes

.  In fact, why not let the kids decorate their own cupcakes before or during their party?  Naomi helped me to make and decorate her cupcakes this year.
Use coupons and sales to purchase inexpensive ice cream, chips, treats, and decorations year-round when they are discounted.
Serve a special breakfast.  Breakfast in bed is always a special treat around here, or I will throw something fun (M&M's, sprinkles, chocolate chips, etc.) into the pancake batter.  If I'm at my parents' house for my birthday, my Dad will still ask me what I would like for breakfast that day.  (I usually choose French Toast or Homemade Crepes topped with fruit!  Mmm…)
Make a homemade card (or gift).  I often use free photo card deals on-line to make cards for birthdays, but since I was a child my mother always had us make homemade cards.  In fact, my husband prefers my homemade cards and specially requests them!
Skype your relatives.  My parents got to watch from Maryland as Naomi opened her birthday gifts in California!
Have a gift-less party.  Inform your guests that need not bring a gift to the party.  Instead, have them bring a dish to share, or pack a lunch for themselves.
Have a one-gift party.  A lot of parents are scaling back on gifts in order to deal with the clutter in their homes.  Instead of many gifts, choose one special gift, and don't feel guilty about it.
Use a Gift Card or Swagbucks to purchase your gifts.  I bought almost all of Naomi's gifts with a $25 gift card to Toys-R-Us that I found in my wallet.  I buy most of my gifts for our extended family on Amazon using Swagbucks, and then I have the gift shipped directly to the recipient!
Give a Group Gift.  When I was growing up, sometimes everyone would chip in to get one very large gift for another family member.  I like this idea because it saves me the time I would have spent shopping, and it's a way to give someone a very special gift that they might not otherwise receive.  We've used this concept to buy a rocking chair, luggage, concert tickets, a computer, and an iPod Touch as gifts for different people.
Have a small party.  I read not too long ago that the appropriate number of children to have at a birthday party is equal to the age of the child.  So don't feel that you must host 40 people at your 2 year old son's party.  There is nothing wrong with only inviting immediate family, or just the grandparents.  Your child will not judge the party's success by the number of guests.
Instead of a party, try an outing.  Have your party at the public pool, park, or zoo.  Decorating will be minimal (if at all), and you won't have to plan activities to keep everyone busy.  Party guests can pack a lunch and cover entrance fees, instead of bringing gifts to the party.

Make simple decorations.

  When I asked Naomi what she would like for her 3rd birthday, she said, "Ice Cream and Balloons."  Kids don't need much to be happy.  Have them help you decorate.  Naomi and Oliver were thrilled to participate in hanging balloons and streamers around our living room.  As Amy always says, "Easy-Peasy!"  We also keep a bag of candles, streamers, balloons, paper goods, and party favors in our pantry.  Whenever there is another party, we don't have to go shopping for more decorations.
Finally, remember that your goal is to celebrate your special person on their special day.  Your goal is not to have a Pinterest-worthy party, or to impress all the parents in your child's class.  Remember that, "Comparison is the thief of joy."  If your family tradition is to serve the honored person a special birthday breakfast on a special plate, sing "Happy Birthday," and give them a small homemade card or gift, then don't feel guilty about it.  They will feel special and celebrated, and be glad that you remembered their special day.
What creative ways have you found to celebrate birthdays on a budget?