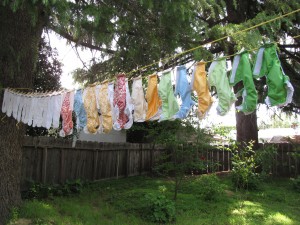 When Brad and I found out we were pregnant with our first child in 2008, one of our first concerns was how we would afford to diaper her.  Somewhere along the line, I heard about cloth diapering.  So I sent out a Facebook status update, asking for information about cloth diapering.  When a few friends replied, I wrote a Facebook message to all of them, asking for more details.
My friends were full of great information, and soon we decided to buy 24 Bum Genius One-Size All-In-One Velcro diapers for Naomi.  17 months later we bought 24 more Bum Genius diapers for Oliver, some of which were snap diapers.  2 years after that, we sent all of our Velcro diapers to convertmydiapers.com and had them converted to snaps.  At this point we've been a cloth-diapering family for almost 4 years, and we still have all 48 of our original diapers.  I think they all still look great considering how long we've used them!
There are lots of advantages to cloth diapering.  We chose cloth diapers because of the cost.  We paid about $400 to diaper Naomi, about $400 to diaper Oliver, and about $150 to convert our diapers for Evelyn.  So we diapered 3 kids for $950.  A quick look on-line estimates that disposable diapers will cost you $1600-$2600 to diaper one child until they are 2 1/2 years old.  Cloth diapers are also cheaper than the "swimmie" diapers you'll need if you plan to take your little one swimming.  They are also considered more "green" than disposable diapers.  Although you will be using more electricity and water, you won't be filling landfills with diapers.  In addition, we've noticed far fewer "blow-outs" with cloth diapers, and some people swear that their kids potty-train earlier with cloth diapers.
Tomorrow I'll be back to share my tips for cloth diapering success!
Click here to read Cloth Diapering 101: Part 2.