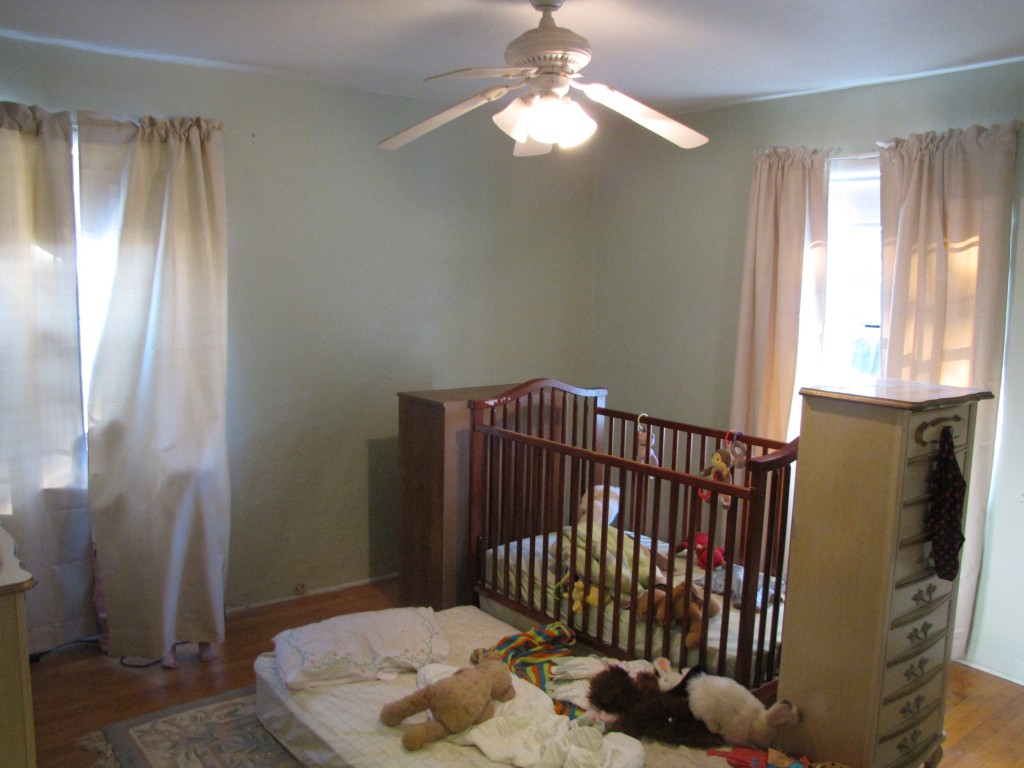 When we moved into our new rental home, one of the first things I hoped to do was paint birch trees on the walls of the kids' room.  If you've explored my Pinterest boards, you probably saw some of my many ideas there.  Life happened though, and other things took priority.  Soon a year had passed, and I found myself complaining that I STILL hadn't had the opportunity to decorate a nursery since becoming a mom, even though I was now pregnant with my third child.  The thought that followed that complaint was "Why not do it now?"  My family was coming to visit at the end of October, and my mother and grandmother (both artists) would love to see a freshly painted nursery.  So with a firm deadline and an audience to impress, I got to work.
One other big bonus of this project was that it was absolutely FREE!  I didn't pay anything for my supplies.  We already had a gallon of white paint in our garage from painting our bathroom.  I only needed about a quart of paint, so I had more than enough for this project.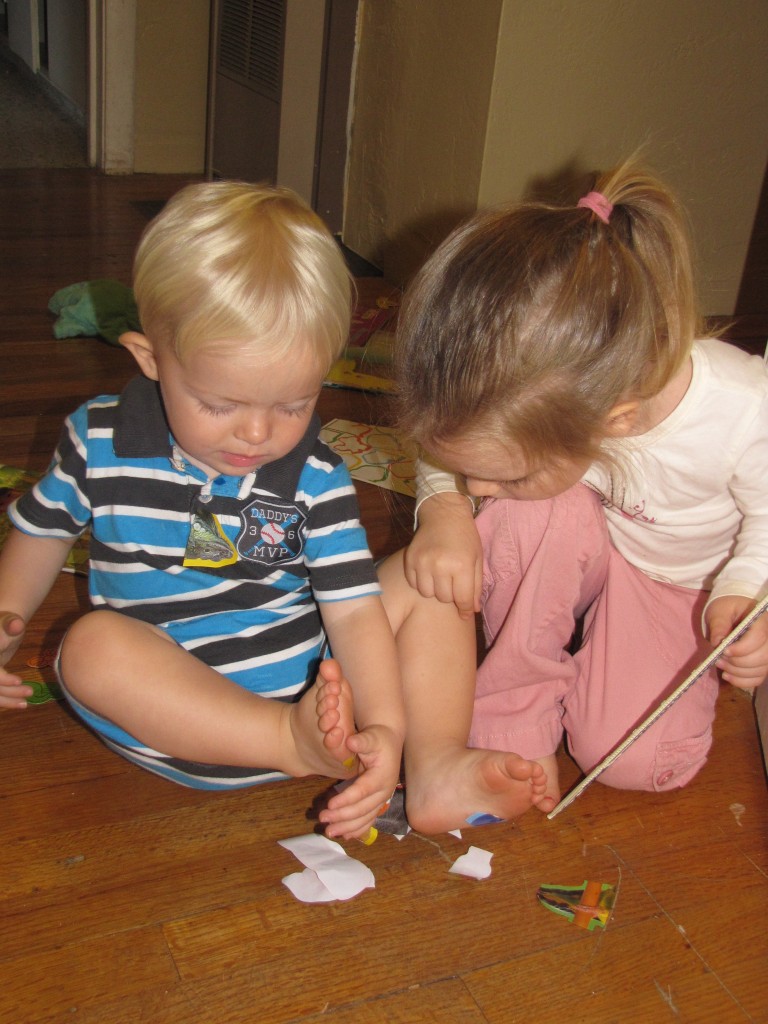 In order to work on this project (which took 5 days to finish) I had to work around my two lively toddlers.  First I pushed all of their furniture to the middle of the room, where they slept for 7 days.  They thought this was a great adventure.  Sometimes they hung around with me, and sometimes they watched movies at my computer.  Other times they made a mess elsewhere in the house, or Naomi covered Oliver in stickers (above).  If you look closely at the first photo, you'll see their feet sticking out from under the curtains on the left.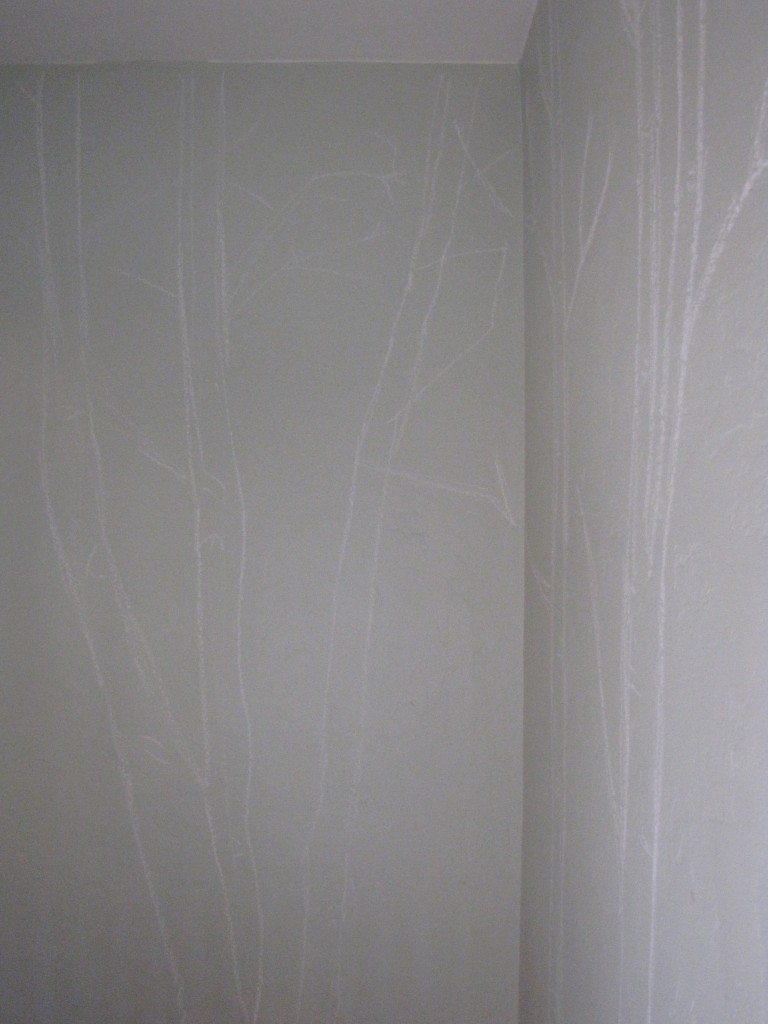 Before painting I glanced at a few websites with instructions on how to paint a mural.  One website suggested using chalk to outline your mural.  I thought this idea was brilliant!  I've always used pencil, and been frustrated by the dirty smudges and tedious task of erasing the lines afterward.  By using chalk I could easily correct mistakes with my fingers, and when I was done painting I just used a damp rag to wipe away all the chalk marks.  For the chalk, I used some white sidewalk chalk from a box that Naomi had received for her birthday.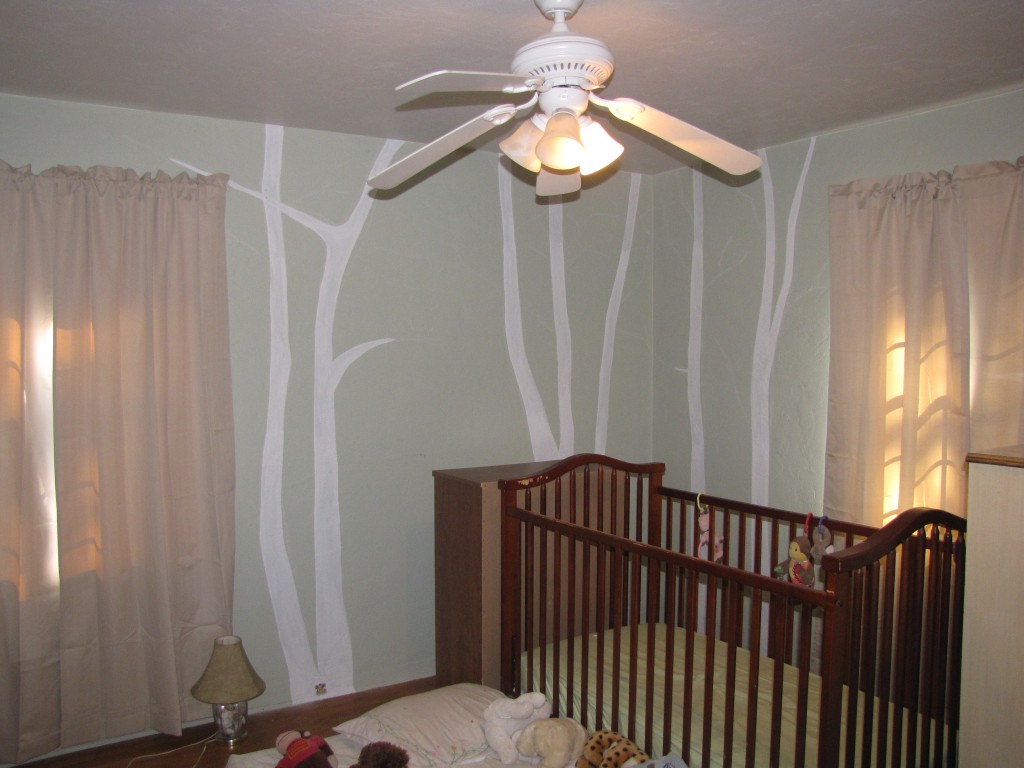 Once I started painting, I realized that I had a much bigger project ahead of me than I first imagined.  I had 17 trees with lots of branches and leaves.  I was working from laying on the floor, to a step-ladder, and then a 6-foot ladder.  I was circling the room over and over again, pushing furniture out of my way, and trying to get enough light to see my work.  But I was really loving the effect, and kept stepping back to admire my progress.  I started with the thick trunks and a thick paintbrush, before switching to smaller brushes for the detail work.
Come back to see the finished project!