Today I thought it would be fun to take a look back at 5 years of frugal Halloweens.  Did you know that Americans spend $8 billion in Halloween holiday outlay each year, making it second only to Christmas?  That's $80 per family on decorations, costumes, and candy!  Naomi was born in 2009, and we've been doing full-time youth ministry since 2007.  So we've never spent a lot of money (if any) on Halloween.  Now for a look back…
In 2009, Naomi was only 3 months old at Halloween.  We lived in Minnesota, so between her age and the cold weather, we opted to stay home on Halloween.  However, I did enjoy dressing Naomi up in some of the fun clothes we'd received at my baby shower in China!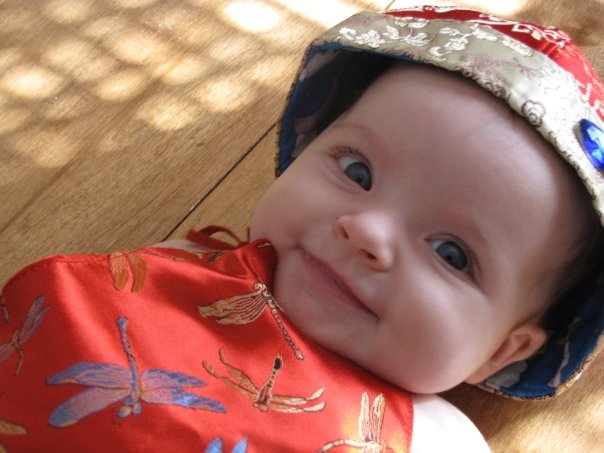 A year later we were living in my parents' basement in Maryland for Halloween 2010.  Our friends Nathan and Jenn gave us a hand-me-down ballerina costume that Naomi wore with a turtleneck that we already owned.  Naomi had fun helping my Mom hand out Halloween candy.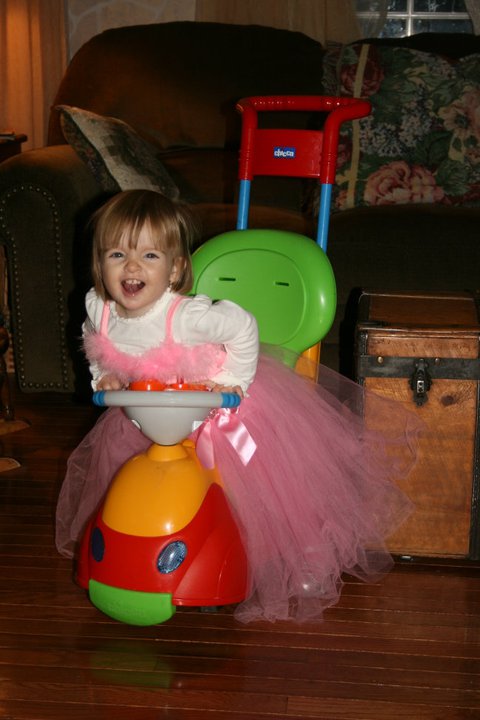 In 2011, I had a Pinterest account for the first time.  I found this great idea for Oliver's costume that people still remember!  We had just moved to California, and posed for photos in the backyard.  Naomi decided that she wanted to wear the same costume that she's worn the year before.  You can read more about our "Frightfully Frugal Halloween" since by then I was a blogging fool!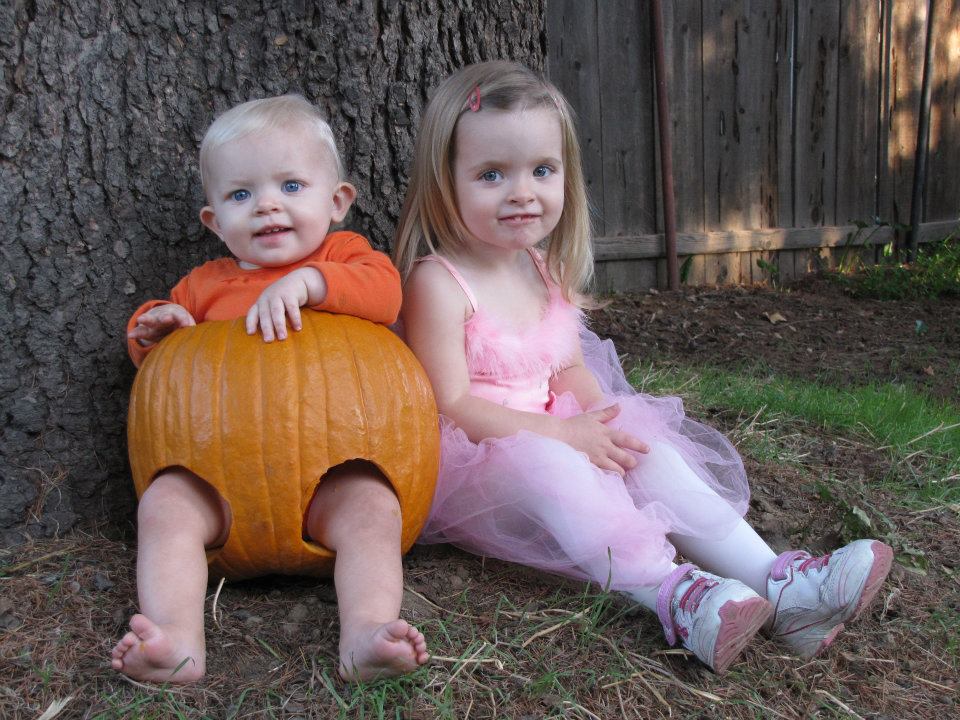 Winter is rainy in California, and in 2012 the heavens opened up.  We took photos in our newly-painted kids' bedroom, and then hung out inside at a local church's Harvest Festival.  Naomi chose to wear the same costume for the 3rd year in a row.  Thankfully it was a 4T so she had plenty of room to grow into it!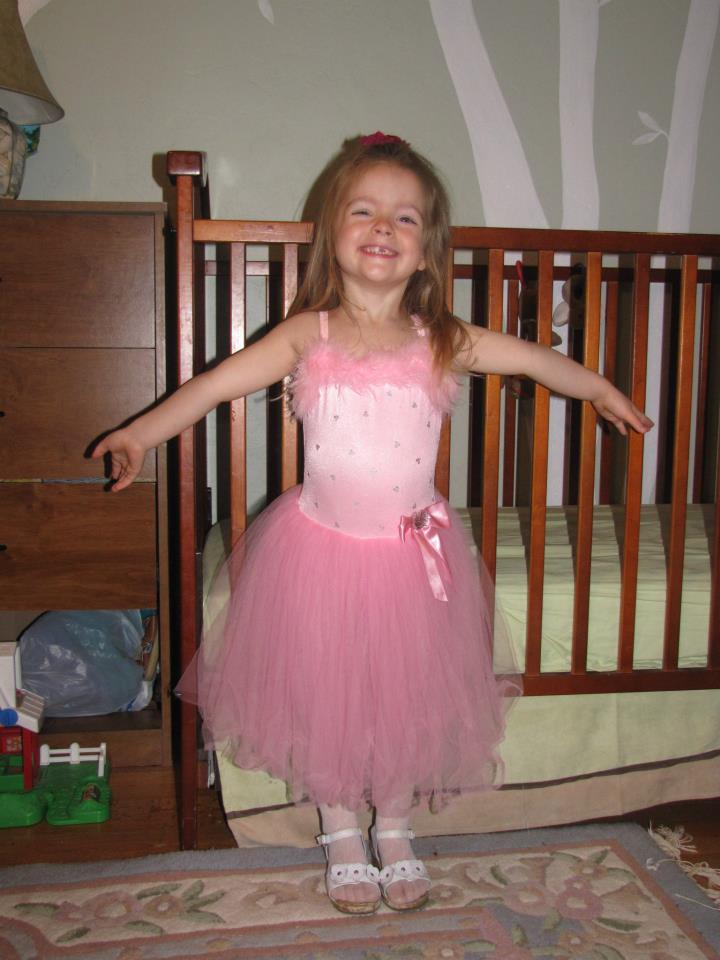 I found Oliver's costume at a Peace.Love.Swap. event, and was glad that his outfit kept him covered and warm in the torrential downpour.
This year the weather was gorgeous for Halloween.  Until the morning of Halloween I thought Naomi still might wear the same outfit for the fourth year in a row.  This would have been the last year it would still fit.  However, at the last minute she changed her mind and put on a different hand-me-down ballerina costume from her dress-up box.  I dressed Oliver as a cowboy using props from Brad's "Prop Closet" (and Naomi's boots), and Evelyn wore a hand-me-down Snow White costume and a crown that Naomi received for her birthday.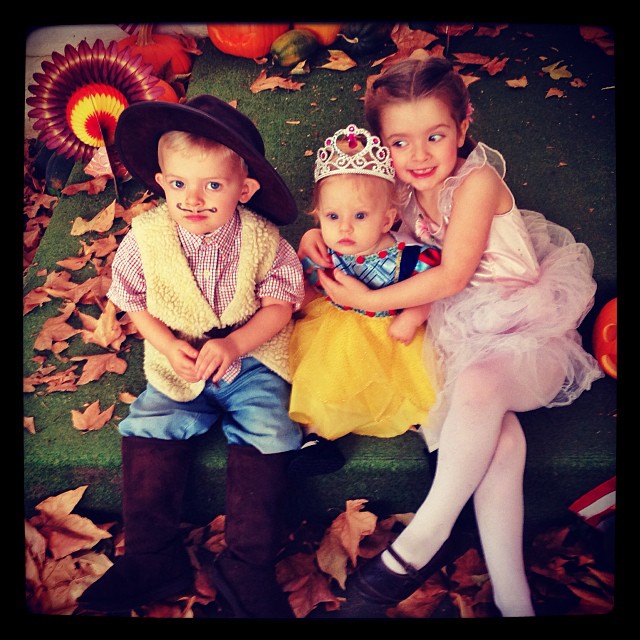 This year Brad and I also got in on the Halloween action, and wore costumes.  We don't dress in costume every year, but this year it was fun for all five of us to be in costumes!  Both of us made costumes from Brad's "Prop Closet."  I dressed as a cowboy to match Oliver, and Brad dressed as "Stan, Stan, the Stunt, Stunt Man."  We went back to the same church's Harvest Festival for the 3rd year in a row, where we enjoyed bounce houses, trunk-or-treating, indoor games, and cupcakes.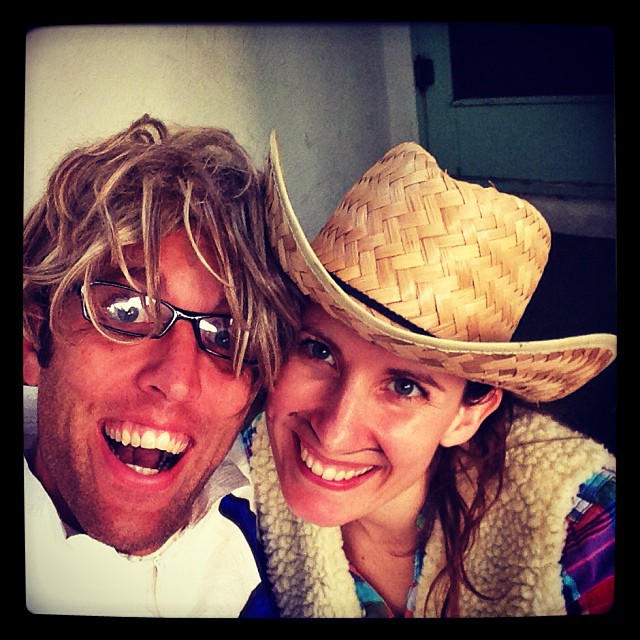 So there you have it!  Five years of Halloweens, and we've only bought one pumpkin (for Oliver's costume in 2011), we've never bought candy, we've never bought decorations, and we've never bought costumes.  It can be done!
What fun and frugal ways has your family found to celebrate Halloween on a tight budget?
(Today I'm linking up with "Works for Me Wednesday!")