I had not really planned to go out on Black Friday, but after I saw the long list of freebies at CVS, I had to see them for myself.  We were back in Maryland for the holiday, and using disposable diapers temporarily.  I had no CVS Extra Care Bucks when I began, so I decided to accumulate enough ECBs to cover the cost of the diapers we needed ($18.99).  I also hoped to find some snacks for the flight home, gel or mousse for my curly hair (no, they don't let you bring those big bottles on the airplane), and some lip gloss.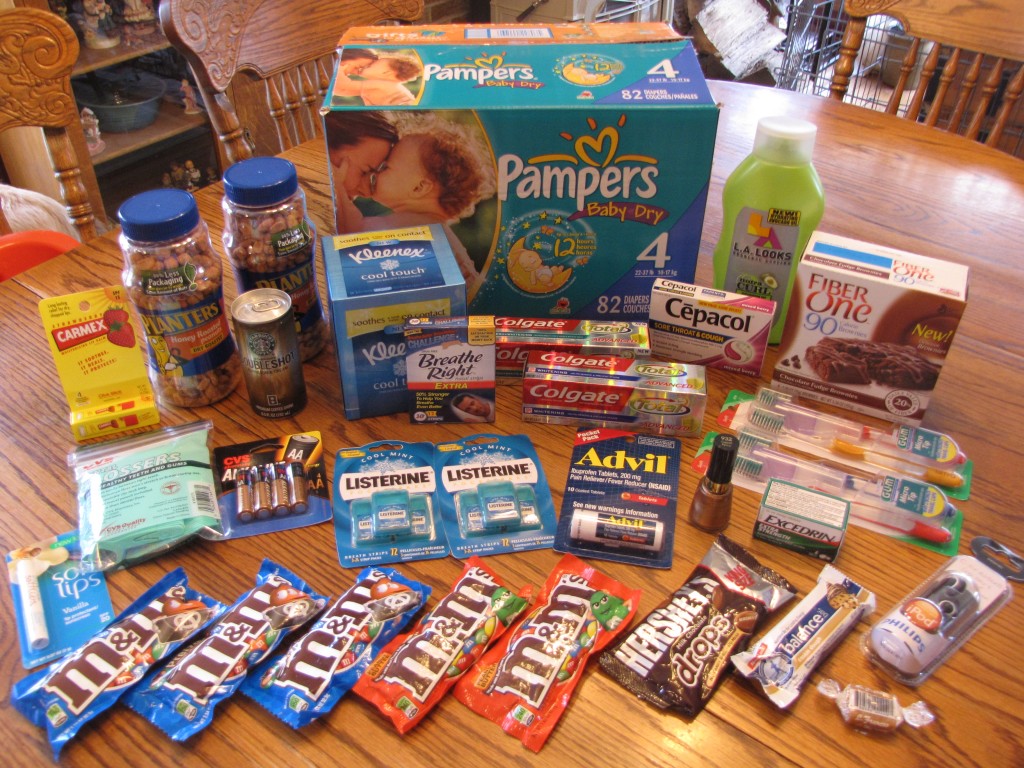 I was amazed at the number and the value of the freebies I was able to pick up!  I spent $27.99 out of pocket (OOP), and still have 4 ECBs left to spend.  So that's $23.99 for 31 items, or about $0.77 per item.  I didn't take any coupons, but I know I could have gotten even more for my money if I had prepared coupons as well.  As you can see, I found all I needed and more.  I also had a great time teaching my mom and my sister Kristy how to play the drugstore game!
82 Pampers Diapers
2 Planters Honey Roasted Peanuts
1 Starbucks Double Shot
1 Carmex Lip Balm
1 Kleenex Cool Touch
1 Breathe Right Nasal Strips
2 Colgate Total Advanced
1 Cepacol Sore Throat & Cough Lozenges
6 Chocolate Fudge Brownies
1 LA Looks Nutra Curl gel
4 G.U.M. Toothbrushes (Micro Tip)
1 Revlon Nail Polish
90 Mint Dental Flossers
8 Excedrin Extra Strength
Philips Color Earbuds
1 L. Frances Candy
1 Cookie Dough Balance Bar
5 M&M's Candy
1 Vanilla Soft Lips
6 Cool Mint Listerine Pocket Packs
10 Advil Tablets
1 Hershey's King-Size Drops
4 CVS AA Batteries
What great deals did you find over the Thanksgiving holidays?