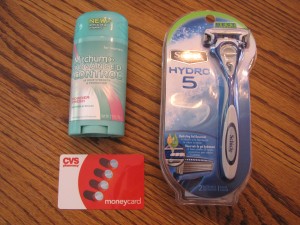 Well, let's just say it wasn't pretty.
My mom agreed to watch the kids so that I could go shopping.  I had my CVS card, advertisement, notes, and coupons in hand.  However, I forgot my Extra Care Bucks. A fact which I didn't realize until I reached the register.  I should have just stopped there and gone home.
1. I bought Zyrtec (5 ct) for $5.99.  I used a $2/1 coupon printable.  I was supposed to use 2 ECBs (which I left at home, and later realized I had misplaced entirely). I paid $3.99 and got 5.99 ECBs.
2. I used the 5.99 ECBs to buy 1 Hydro 5 Razor using a $4.00/1 coupon (6/12 Smart Source) and 2 Mitchum Deodorants with 2 $0.75/1 coupons (6/12 Smart Source).  I spent $1.21 and got 4 ECBs for the Razor.
So I spent $5.22 and walked away with 4 ECBs.  I was kicking myself for forgetting my 2 ECBs at home.  Why did I spend over $5 for deoderant and Zyrtec that I didn't need?
So I went back.
1. I returned my Zyrtec, and received $3.99 and a $2.00 CVS gift card.
2. I returned one deodorant, and received $2.11 back.
I recieved $8.10 total back.
Hmm…I'm not a math genius, but…
It seems that I got $0.88, a $2 CVS Gift Card, 4 ECBs, a razor, and a deodorant out of my 2 trips today, without spending any money out of pocket.
I did voice my confusion to the man at the register, but he would not be swayed. 
Although I was still pleased with the end result today, I'm hoping next week I will remember everything, and be more organized!