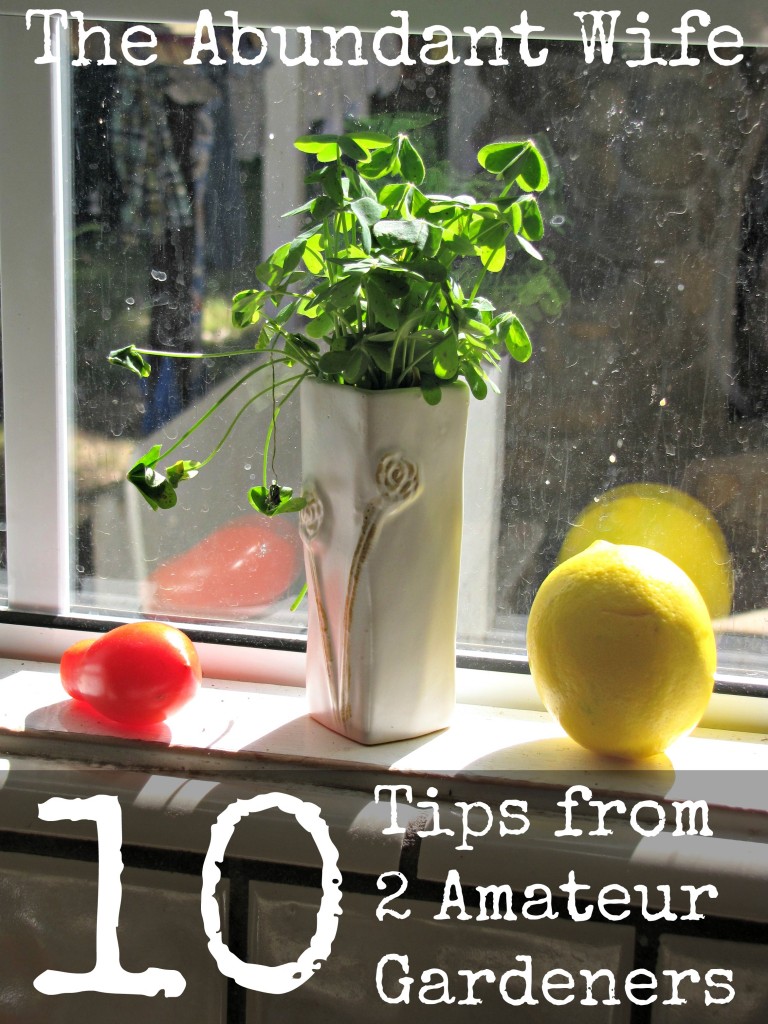 Brad and I both come from gardening families.  Both of our mothers grow flowers, and both of our fathers have a vegetable garden.  Our grandfathers also had vegetable gardens, and we grew up seeing our relatives tending their little backyard plots.
Yet when Brad and I moved to Northern California, we knew very little about how or what to grow in our backyard.  We have both been very surprised by Brad's green thumb, and his success in growing all manner of things.  So here are 10 tips from 2 amateur gardeners:
1. Designate a compost bucket, and choose a location to empty it in your yard.
2. Compost your leaves, fruit peels, egg shells, coffee grounds, tea, stems, nuts, charcoal, and even hair clippings!
3. Choose a few vegetables to plant.  (We have tomatoes, squash, pumpkins, and carrots.)
4. Plant fruit trees.  (We have lemon, lime, orange, and peach trees.  We also have a grape arbor.)
5. Plant flowers.  (We have roses, geraniums, sunflowers, wildflowers, and even a bottle brush tree in our yard.)
6. Try container gardening.  (Brad grew carrots in a rubber-maid tub!)
7. Water your garden, and give it lots of space to grow.
8. Enjoy the harvest!
9. Learn to cook from scratch, using your harvest.  (Don't forget to compost your leftovers!)
10. Use your fresh produce for holidays, or share your abundance with others!
As you can see, the main thing you need to do is venture out into your yard, and begin experimenting.  Some things will work, and some things will not.  Some plants that grow in one place, won't grow in another.  But you don't need a fancy box garden, expensive fertilizers, or high-end gardening tools.  Go outside and get your hands dirty.  Plant some seeds, water your garden, and see what grows!
What tips would you give amateur gardeners like us?