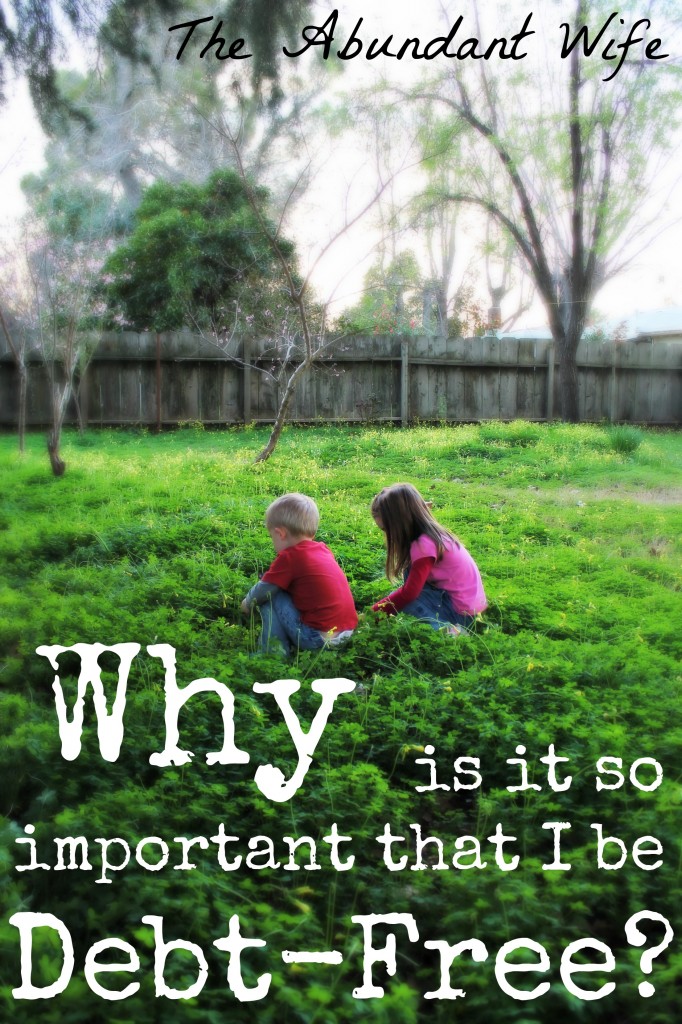 When I first learned about debt-freedom from Dave Ramsey and Crystal Paine, I immediately became passionate about becoming debt-free.  Why?  Because we serve a big God, who has given Brad and I big dreams.
In September 2009, after 17 years of dreaming, Brad had finally accepted his dream job doing full-time youth ministry.  I had also just begun my dream job as a stay-at-home-mom to our first child.
But in the winter of 2010, our dreams were crumbling around us.  Brad's salary was reduced by 50%, I started substitute-teaching, and Brad started refereeing soccer games.  I cried every time I had to leave my baby behind to go to work.  We were more than $500 short on our bills at the end of each month, and I was pregnant with our second child.  We were eating so much spaghetti and Sloppy Joe sauce that our daughter was getting nasty diaper rashes all the time.  Through that long cold Minnesota winter, we had little food, little heat, little money, little sleep, and a lot of tears and worry.
When I read about debt-freedom, and the inspirational stories of those who had come through dark days like ours, I was hooked.  I wanted to be debt-free like nothing else.  I desperately wanted to stay home with my babies, and I wanted Brad to be able to do the work that God had called him to do.  God placed these passions in our hearts when we were mere children.  I cannot imagine facing my Savior and telling him that I did not do the work He had called me to do, because I had too many debts to pay.
Brad was eventually laid off from the position in Minnesota in September of 2010, we moved into my parents' basement, and gave birth to our second child.  Those 2 years (June 2009-August 2011) were the most humbling years of our lives.  We learned so much the hard way.  We climbed out of the pit we dug for ourselves even more determined to pay off our debts for good.
We want to live without fear of a reduced paycheck, give joyfully to others, and have the mobility to go wherever God calls us whenever he calls us.  We know what God has called us to do, and we will do everything in our power to serve him with our lives.
I want to be debt-free so that I can do the work I choose, when I choose, where I choose, for whom I choose.  Debt-freedom is exactly that–freedom!
"The rich rules over the poor, and the borrower is the slave of the lender."  –Proverbs 22:7
"Let no debt remain outstanding, except the continuing debt to love one another, for whoever loves others has fulfilled the law." –Romans 13:8

Why is it important that you become debt-free?  What motivates you?