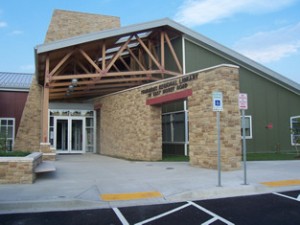 I was recently telling my friend Maria about how some of my favorite books and resources were lost somewhere in our storage shed.  Although I've been back to look for them a number of times, I've had no luck finding them.
That's when she stated the obvious.  "Why not look for them at the library?"
Sometimes I miss the forest for the trees.
I live right down the street from the public library.  It wasn't there when I was growing up, or we'd have been walking there all the time.  In fact, it's practically brand new.  Well, let me tell you, things have changed in our small-town library since I was young!  Our original library was one small room on the town square, and I used to get parking tickets when I took too long checking my e-mail during college.  Now it has it's own building and parking lot, and an entire children's wing including a separate classroom for story-time.
Not only did I find two of the books I was looking for (pictured below) but I also found two sing-along DVDs for Naomi, who loves to sing and dance to music.
Here are a few of the other things I found at the libary:
Books and DVDs: Childcare, Board books, sing-alongs, and an endless array of G-rated material.  Who needs Redbox?
Rocking Chairs: Naomi loved rocking in these unique hammock-style chairs.
Small Computers: The small size of the monitor and mouse, and the colorful keyboards made this a big hit!  The headphones were fascinating, and allowed Naomi to play without disrupting the rest of the libary.
Puzzles, Checkers, Puppets, Blocks, and a Doll House: There were so many educational toy stations throughout the children's wing that Naomi just kept moving from one thing to the next!
Crayons and Paper: I love that the library is prepared for little ones to get creative!
Water Fountain: Laugh if you like, but Naomi loves the water fountain.  I have to say "no" though when she wants to fill the dollhouse bathtub with water!
Babies-N-Books Classes: Although Naomi is a little young to get much out of these 30 minute classes, I love meeting the other young mothers of toddlers and infants.
Special Activities: Our library also features art activities, clowns, puppets, guest speakers, movie nights, nature walks, and more.
On-Line Resources: One of the great new aspects about our public library is that all of its activities are listed on-line!  You can see a schedule, register for classes, cancel classes, and reserve books with the click of a mouse.
Key-Chain Library Cards: Yes, our library now has a swipe card for your key-chain.
Drive-thru window: Our new library offers many modern conveniences for the fast-paced lifestyle.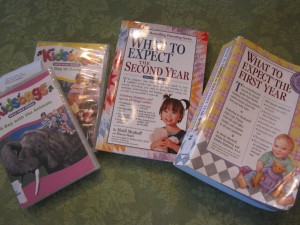 Have you made any great finds at your local public library?