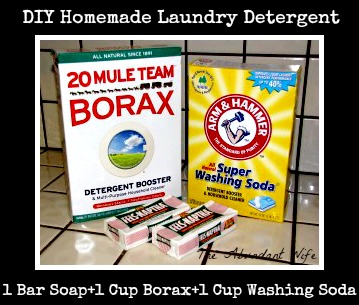 My husband, Brad, has been urging me to try a recipe he found for DIY Homemade Laundry Detergent for some time.  We are not only a family of five, but we also cloth diaper our children, so we go through a lot of laundry.  I was able to pick up all three ingredients (yes, only three!) at our local Win-Co grocery store in the laundry aisle.  Brad shaves the bar soap, combines the ingredients in a plastic storage container, and then adds 1-2 Tbsp per load.
DIY Homemade Laundry Detergent
1 Bar (4.5 ounces) of shaved bar soap (Ivory, Zote, Fels-Naptha)
1 Cup of Borax
1 Cup of Washing Soda
Directions: Stir together for 5 minutes.  Add 1-2 Tbsp per load.
Have you ever tried making homemade laundry detergent?