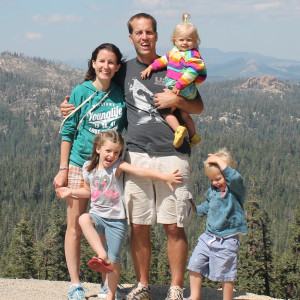 Brad has been in Colorado all this week for what Young Life calls, "Timeline Training."  It is a week of continuing education classes at the beautiful Cheyenne Mountain Resort.  With Brad out of the house, I often notice the things I take for granted when he is here.  It's true, absence often does make the heart grow fonder!  Brad is great at showing love for me in many ways:
He is usually the first one out of bed in the morning, so for the last several weeks he's been bringing my coffee to me while I'm still in bed.
Being the first one up means he also gets to two-year-old Evelyn first, changing her and dressing her for the day.
Brad will often urge me to forget the dishes if there is something he would like me to do, saying he'll wash them for me instead.  (I've been known to put off doing the dishes just so he'll make this offer!)
Brad handles the vast majority of the laundry around our house, which is a lot when you have three messy little ones, and the youngest is still wearing cloth diapers.  He washes, dries, folds, and puts all the clothes away.  He also makes our homemade laundry detergent.  I always forget what a big job this is until he's gone.  Last year our dryer was down for months, and I completely forgot about it because he never mentioned it.  He dutifully hung the laundry on the line for months without complaining about it.  It wasn't until he went on a trip that I realized how urgent the need was!
Brad always thanks me for preparing meals, and makes sure that the kids thank me as well.
Brad recently decided that our family needed a "Day Away" each month, so in January we went to Lake Tahoe, and in February we went to Yosemite National Park.  He has been very helpful in planning and packing for these days, and in keeping costs to a minimum.
Brad takes care of most of our lawn and garden chores, keeping our house looking nice on the outside.
Brad usually puts the kids to bed on nights when we don't have guests.  Lately he's been reading to the kids from the gospel of Mark, and they love how dramatically he tells it.
Since we only have one vehicle, and Brad needs it more often than I do for work, he often asks me if there is anything I need him to do or pick up while he's out.  He also watches the kids for me sometimes, so that I can get out without taking all three kids with me.
He occasionally buys me a card, sends me a funny text message, gives me a flower, or brings home a special  treat "just because."
He is quick to compliment my appearance, and remind me that he finds me irresistible (no matter what I happen to look like at that moment).
He encourages me to pursue my interests and hobbies, and to build relationships with others.
I am so thankful for Brad, and I am so proud of him and all that he does.  With every year, he is a better man than the year before.  He is thoughtful and creative, consistent and helpful, funny and loyal.  He loves God, and loves others so well.  I am so blessed to married to a man like him.
Now, it's your turn!  Who loves you well in your life?  What do they do to show you that they love you?  Who do you love?  How do you show them that you love them?  I hope you each have a lovely Valentine's Day, and take the time to show someone that you love them today.
Love,
Jessie
"We love because he first loved us."  1 John 4:19