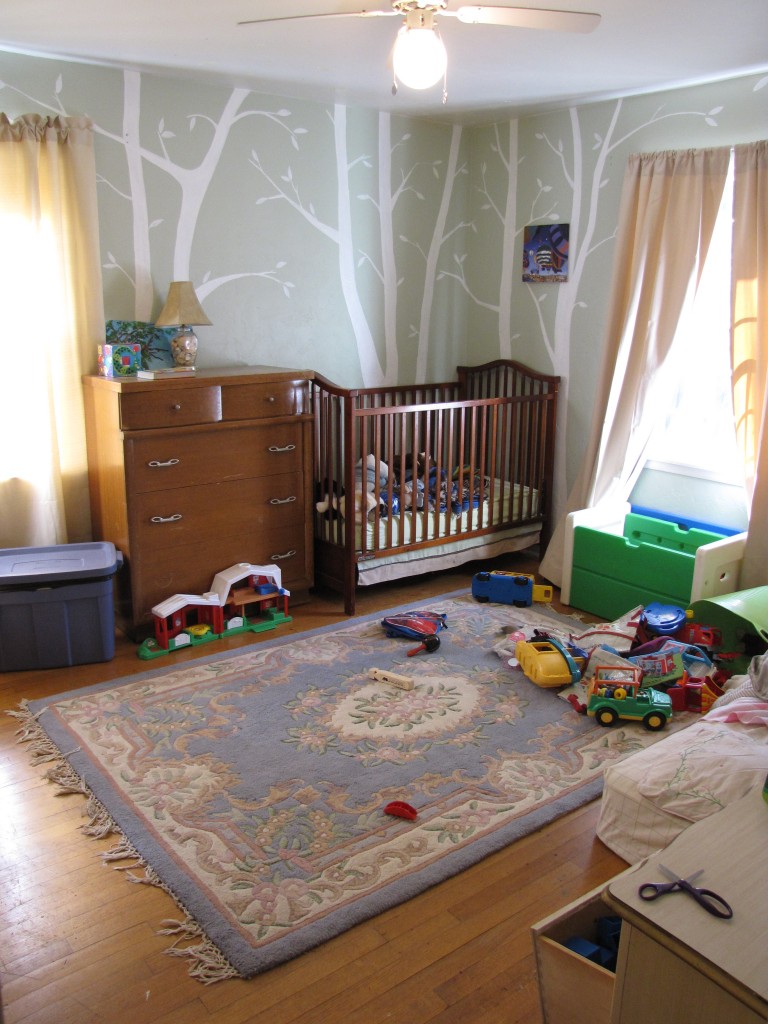 Project #24 of the 30-Day House Cleaning Challenge is to clean your linen closet.  However, our linen closet is pretty organized so there wasn't much to do there.  Instead I decided to go back to the kids' room.  I hadn't cleaned up much in there since Project #4.
Our kids' room is my favorite room in the house.  If you'd like to see more photos of how I painted the walls, you can read about "The Birch Tree Project" here and here.
As you can see, there was plenty to do in my kids' room.  We put art materials in the art box, picked up toys, made beds, Windexed, swept, and vacuumed.  While I was cleaning, Oliver decided to use his new potty.  I promised him a few chocolate chips if he was successful.  Naomi wanted chocolate chips too, so I promised her a few chocolate chips if she would help me clean the room.  Both were successful!
I was incredulous recently when I saw photos of Crystal's 3-year-old son vacuuming.  I didn't think Naomi (also 3 years old) could even push our vacuum.  Today she begged me to let her vacuum, so I agreed to let her try.  I was impressed with her efforts!  I tried to upload the video here, but the file was too big.  You'll have to go to my Facebook Page to see Naomi vacuuming her room.
What chores do your toddlers do around the house?