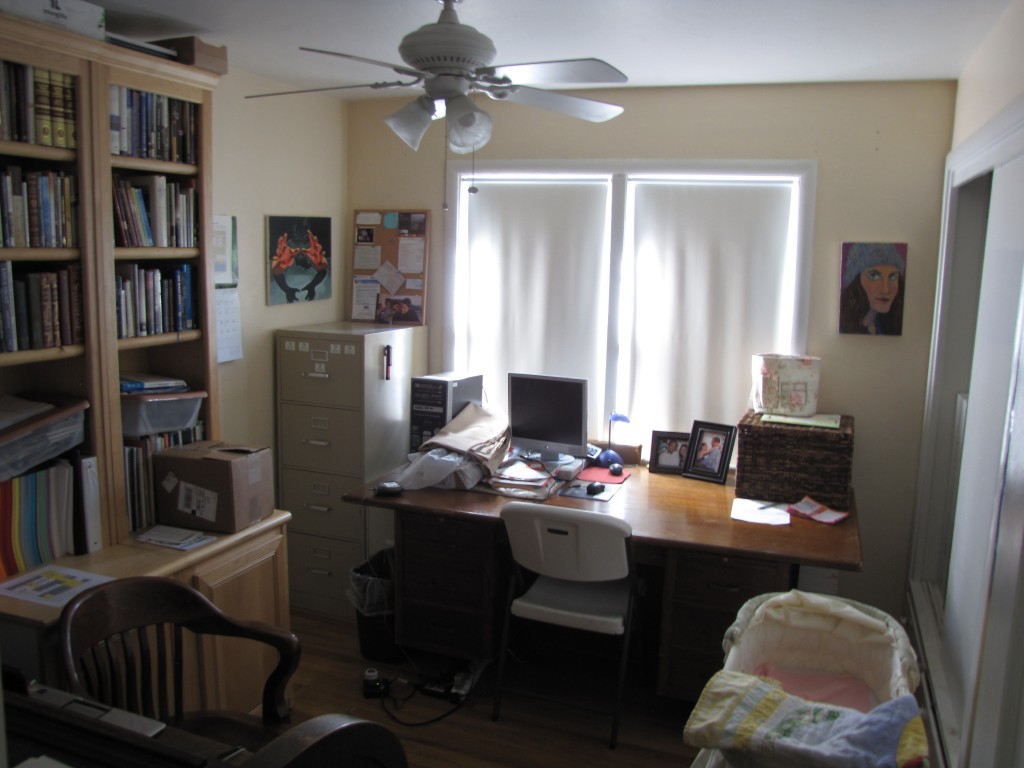 We're 1/3 of our way through the 30-Day House Cleaning Challenge!  Yeah!  Today's assignment was to deep clean the living room, but when I looked over the list of things to do, I realized I had done most of them Sunday night.  However, Brad was in Sacramento for training today, so I decided to surface clean our "office" today.  Our office is our middle bedroom, and currently it also doubles as Evelyn's bedroom (note the bassinet on the right).
In the past I spent more time in our office, but on December 1 my husband moved his office from its other location to our home.  I was excited to get a new desk (I'd been using a small dresser) but not so excited to gain two old computers, and two old filing cabinets full of paperwork to be sorted.  Eventually it became so crowded that I had stopped using it altogether, and preferred to work in the living room.
Today I reclaimed my desk!  I moved the big desktop computer to our dining room table so that I can photograph it and try to sell it.  I moved the unhung curtains and rods to the floor by my desk, and moved all the things that were plugged into my power strip.  Finally I Windexed, feather dusted, and swept the whole room.  I didn't bother Brad's side of the room (I'll leave that for him to do), but my side looks much better!
Do you actually use your desk, or is it just a place to collect clutter?