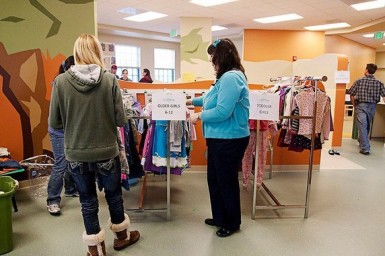 This Sunday is one of my favorite frugal events to attend: Peace. Love. Swap!  Our local swap meets about once every other month, and is usually hosted by a local business.  Participation in the Swap costs $5, but the fee is waived if you are willing to volunteer during drop-off and clean-up.  Drop-off usually begins a couple hours before the Swap, and the Swap itself usually takes less than an hour.
At Peace.Love.Swap, Swappers bring as much or as little clothing (clean, gently-used, on hangers) or other maternity, baby, and child items as they would like to the swap, and leave with as much or as little as they would like.  I often come home with other fun items too, like vendor samples and door-prizes.  I found my local swap through the Peace.Love.Swap. website, and I keep up with dates and times using their Facebook page.
I have been especially grateful for Peace.Love.Swap. in finding clothing for my almost 2-year-old son Oliver.  Although 3-year-old Naomi has plenty of hand-me-downs and often receives clothing from her grandmothers and aunts, Oliver always seems to be short on clothes.  Peace.Love.Swap. allows me to keep him fully-clothed from one season to the next!
How do you save money on your children's clothes?