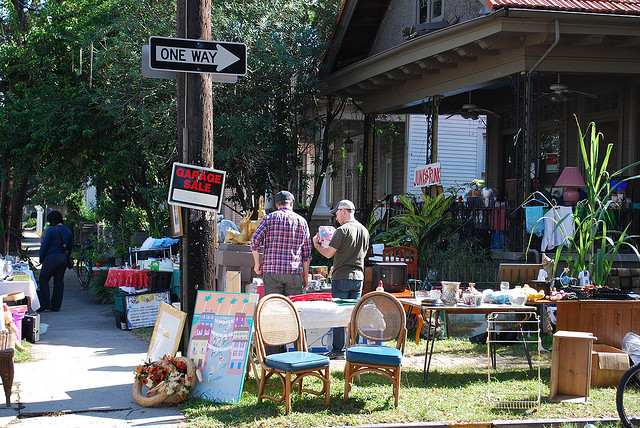 When we moved to California, my new friend Lucy remarked that her friend Linda is an excellent Yard Saler.  She suggested that I might want to join them for a little yard-sale adventure.  I thought it sounded like a great idea, so on October 29 Lucy picked me up at 6:15am to drive the 45 minutes to Linda's house.  Brad graciously agreed to watch the kids, so us girls were on our own!
I quickly realized that I had a lot to learn about yard-saling.  As I was growing up I often went to yard sales, craft shows, flea markets, and antique markets with my mom.  But I wasn't shopping for myself, so I merely waited until my mother was done.  Linda, by comparison, is a professional yard-saler.  In fact, I heard that she has even written a few articles on yard-saling!  (Maybe I can get her to write a guest post for me?  Hmm…)
So here the top ten things I learned from observing and shopping with my friends Lucy and Linda:
Go in season.  Certain times of year, holidays, or events create more or less yard sales.  Seasons can also dictate what types of items you will find for sale.  Be aware of the trends in your area.
Go early!  The best items go first thing in the morning so, get out of bed sleepyhead!
Study Craigslist the night before.  Note addresses, key items, and times of specific yard sales.  Some yard salers don't appreciate "early birds" so respect their wishes.
Be picky.  You only have a few hours, so focus on neighborhoods that are known to have good yard sales or where there will be a number of yard sales close together.  As you get to know the yard sales, you might find that certain areas sell items similar to your personal style.
Plan your route.  If you're familiar with the territory this will be easier.  Use on-line mapping or your GPS to plan a route around town.
Move quickly!  Again, the best items go first thing in the morning, so don't idle unless you're making a purchase.
Make offers and counter-offers.  If you're not satisfied with the price, move on.
Only buy what you need.  You will see a lot of great deals, but you don't need to buy every one!
When in doubt, ask questions.  How old is it?  What condition is it in?  Can I plug it in to see if it works?
Have a way to transport what you buy.  You bought it; how will you get it home?
Our trip was incredibly successful.  I bought two bookshelves (over 6 feet tall), a small children's bookshelf, a toy chest, a pillowcase, a sweater, two pairs of shoes for Oliver, a roaster, a tiara, five children's books, a purse with a change purse, baby dresses, baby towels, baby burp clothes, baby bibs, and a car-seat support.  Grand Total: $40.
I was thrilled to get all of our books out of boxes and on shelves, to find clothes and Christmas gifts for the kids, and to have some great baby items to share with a friend.
What tips would you offer a first-time yard-saler?