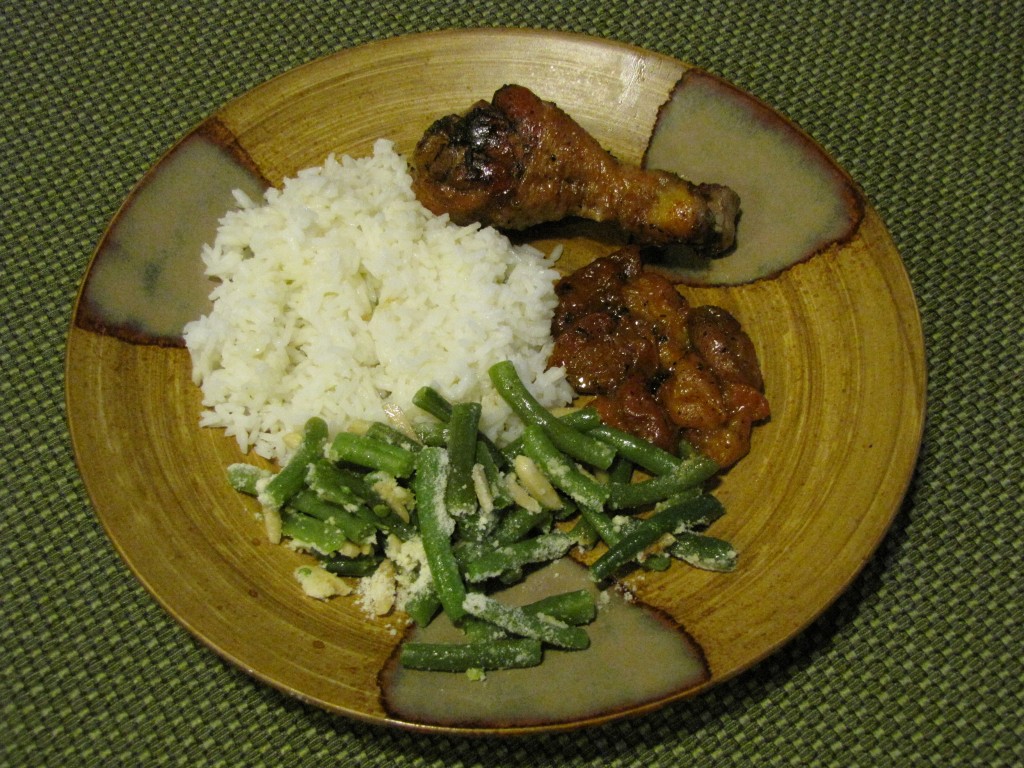 When I mentioned on Facebook recently that I was cooking Apricot Chicken and Almond-Parmesan Green Beans, it turned out that a lot of people were interested in the recipes!  In the photo above you can see that we ate them together with rice.  However you choose to make them, this is now one of my family's favorite meals.  You should see my kids' eyes light up when I set this meal out on the dining room table!  It's definitely more involved than my usual cooking, so you may want to double it and have it for two nights or simplify it for yourself.  I actually attempted this recipe in hopes of cleaning out some of the bags and bags of frozen apricots filling up our freezer!
Apricot Chicken (Simply in Season Cookbook)
2 teaspoons butter
4 ripe apricots (halved and sliced) (I had to thaw mine in warm water first)
Melt butter in a frypan.  Place apricots in melted butter cut side down and cook over medium heat until light brown, about 5 minutes.  Turn and cook several minutes more.  Remove to plate.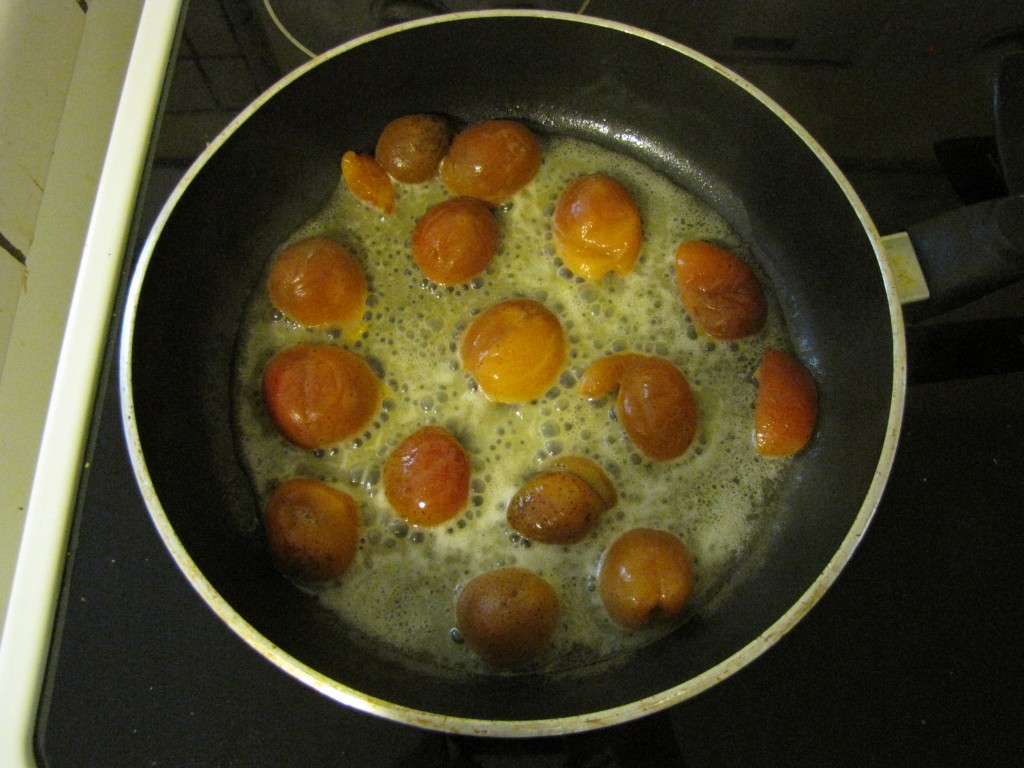 4 boneless, skinless chicken breasts (whole or cut into strips) (I used leg quarters once, and now use legs)
salt and pepper
Roll chicken in mixture of salt and pepper.  Saute in 1 tablespoon olive oil on medium-high heat for 3 minutes, then medium-low heat for 7 more minutes or until no longer pink inside.  Remove chicken to plate with apricots.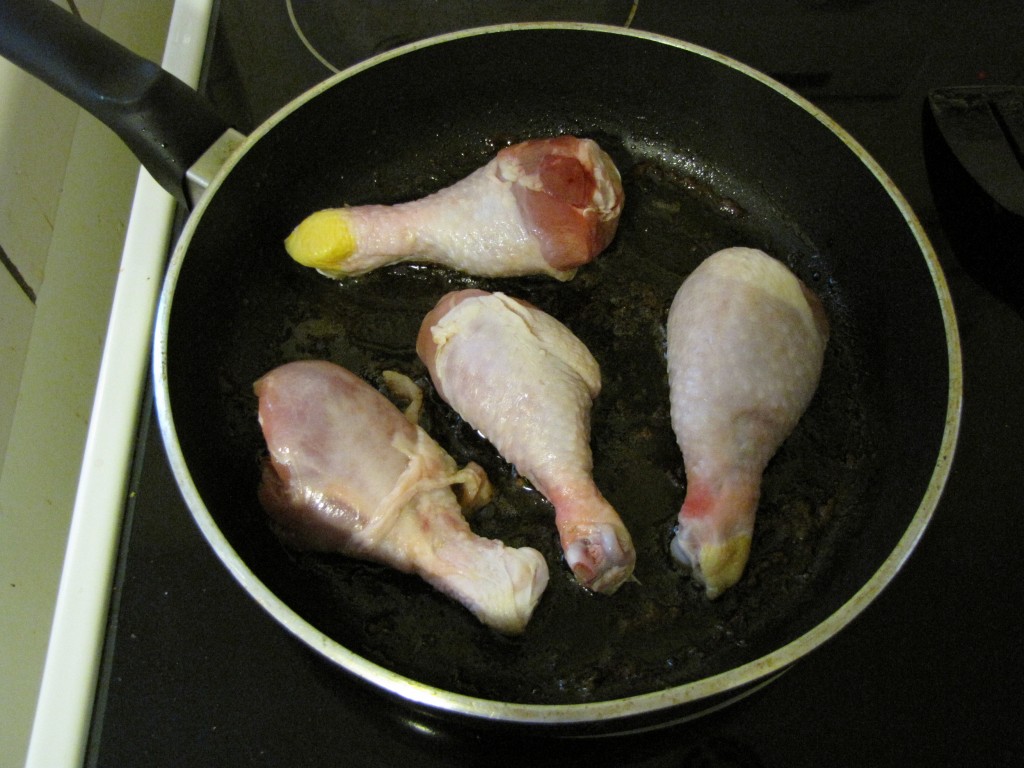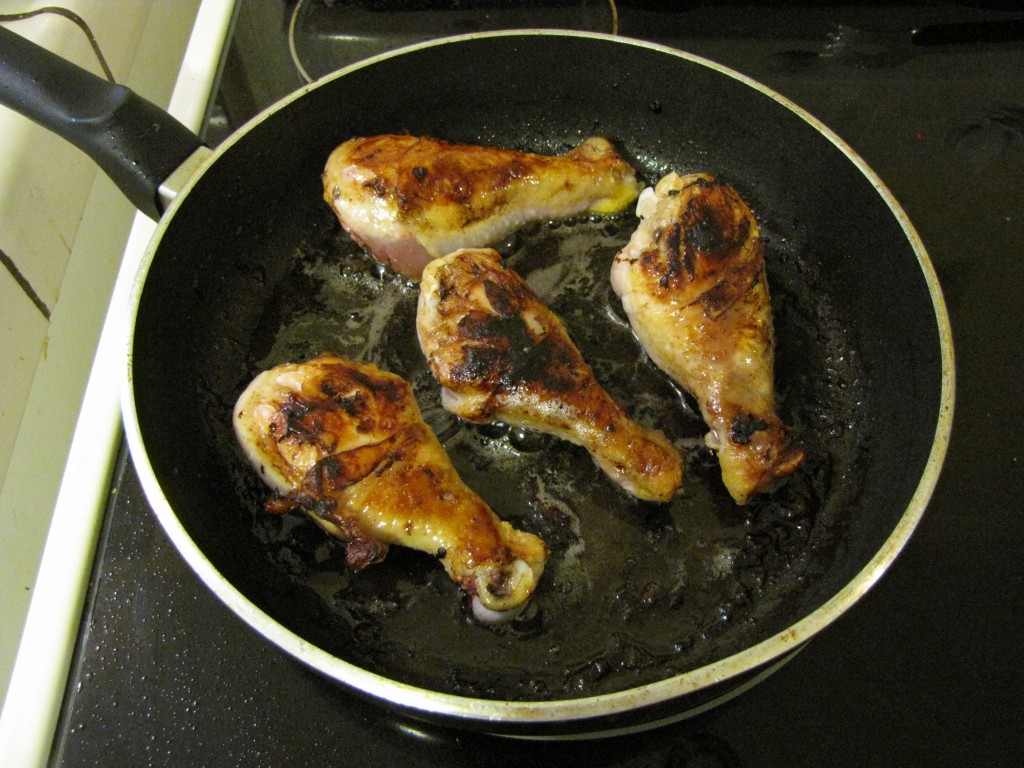 1 teaspoon ginger root (peeled and minced) (I used ground ginger)
1 green onion or 2 tablespoons onion (chopped)(I used minced onion)
Combine in frypan and saute briefly.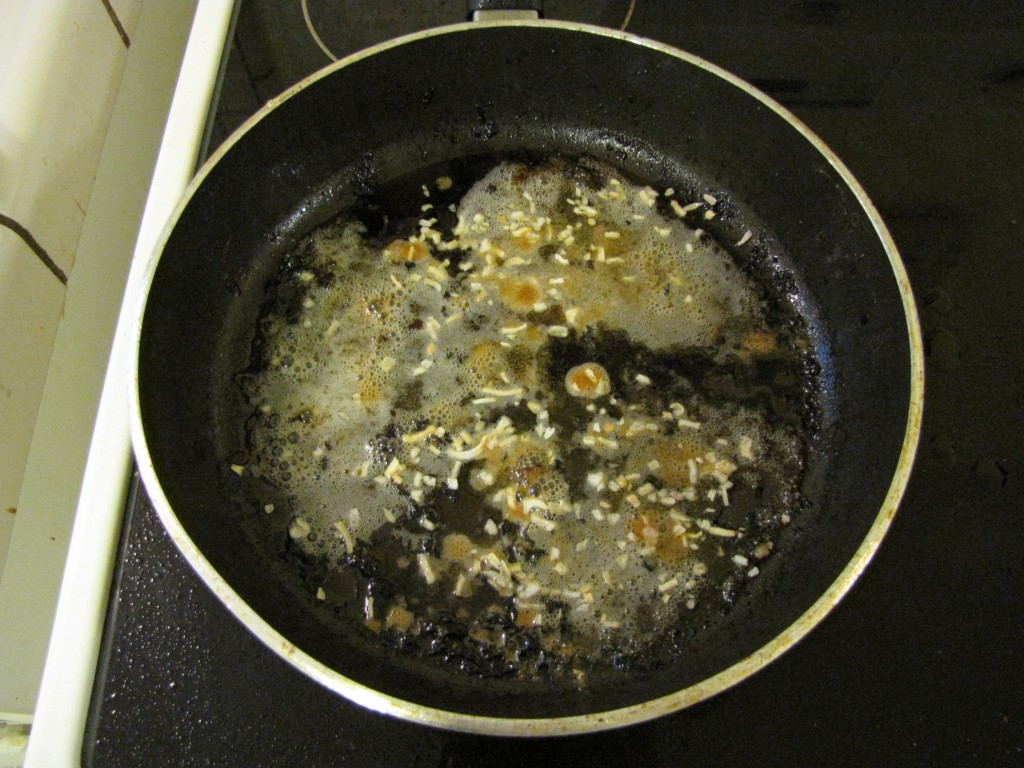 1/2 cup / 125 ml dry white wine, apple juice, or water (I used water)
2 tablespoons maple syrup or apricot preserves (I used apricot preserves)
1/2 teaspoon lime peel (grated)
Add to frypan along with apricots and chicken.  Simmer 10 minutes to combine flavors.  Serve alone or over brown rice or couscous.  Garnish with 1/4 cup / 60 ml toasted sliced almonds.  (Oops!  I forgot the almonds in these photos!)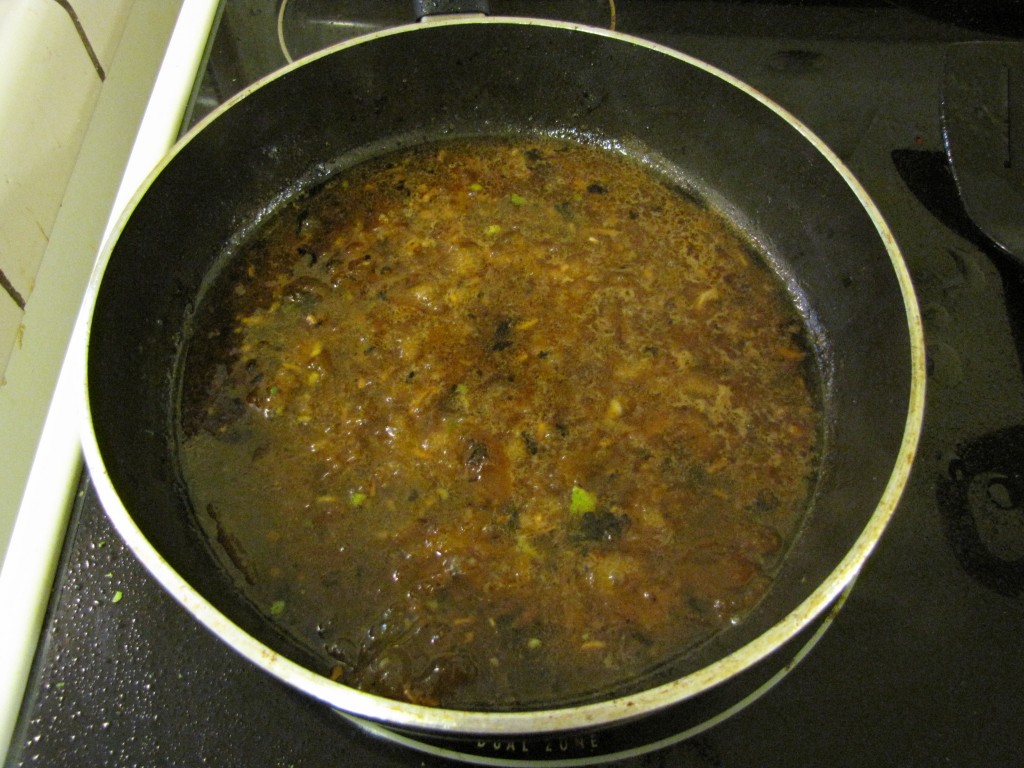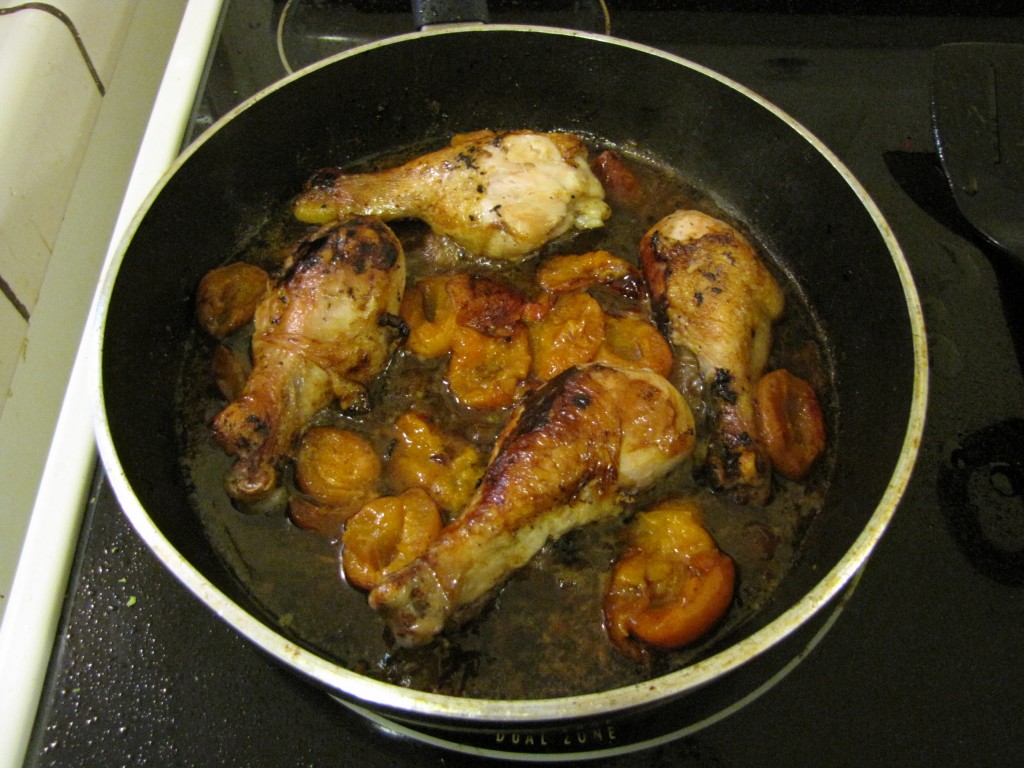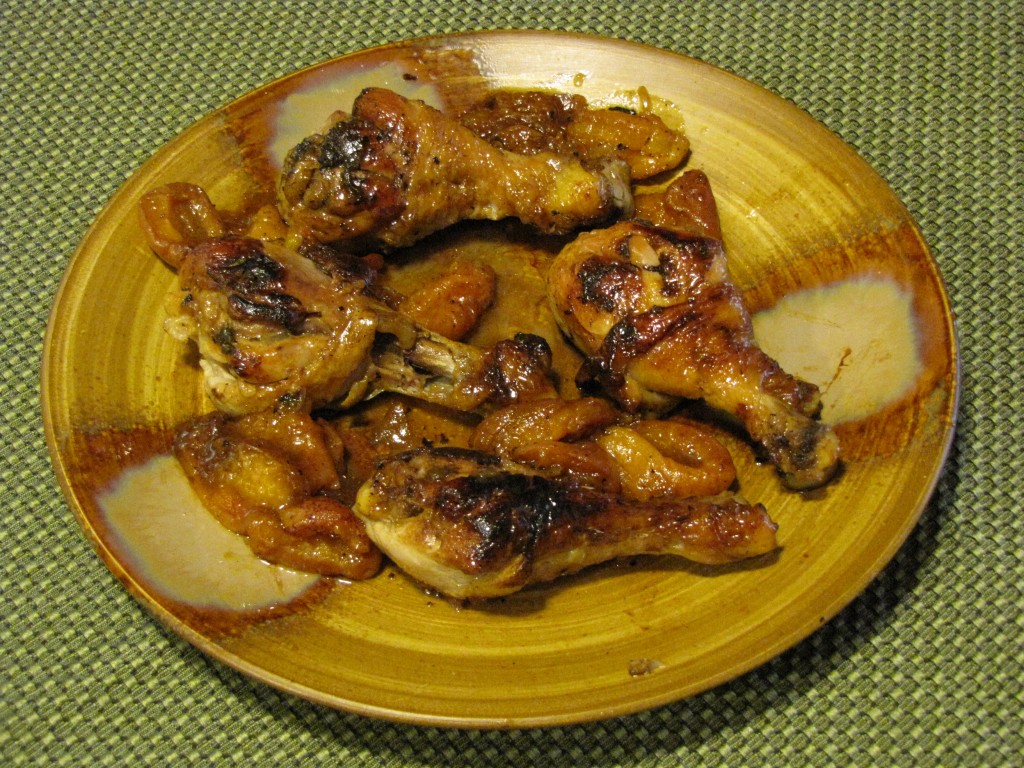 Bon Appetit!
What yummy recipes have you been cooking at your house lately?