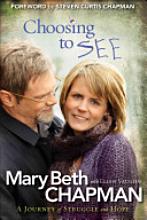 Over the weekend I finished reading Choosing to SEE by Mary Beth Chapman (with Ellen Vaughn).  I have been a long-time fan of Steven Curtis Chapman, and also knew of the tragedy that befell the Chapman family in May 2008.  In fact, when we were in China (2007-2009) we lived in the same town and visited the orphanage where Maria lived prior to joining their family.  I enjoyed the story of the Chapman family, and especially Mary Beth's testimony.
Choosing to SEE is a quick-read.  My only criticism is that when I came to the last 60 pages of the book, it transitioned to a collection of blog posts, text messages, letters, and journal entries.  I preferred the story-telling style of the rest of the book, and felt that this second portion was inconsistent stylistically and therefore less interesting then the rest of the book.  I can understand Mary Beth's desire to share these entries, but I felt that they took away from the continuity and unity of the text.
With the exception of these 60 pages, I loved the story and hearing how the Show Hope orphan ministry originated.  I would encourage you to consider adoption, and to learn about the support provided by Show Hope.
January: For Women Only: What You Need to Know About the Inner Lives of Men by Shaunti Feldhahn
Feburary: Bringing Up Boys: Practical Advice and Encouragement for Those Shaping the Next Generation of Men by Dr. James Dobson
March: Crazy Love: Overwhelmed by a Relentless God by Francis Chan
April: When God is Silent: Choosing to Trust in Life's Trials by Charles R. Swindoll
May: Radical: Taking Back Your Faith from the American Dream
June: Dinner with a Perfect Stranger by David Gregory
July: Choosing to See: A Journey of Struggle and Hope by Mary Beth Chapman
August: What to Expect: The Second Year: From 12 to 24 Months by Heidi Murkoff
September: Wild Things: The Art of Nurturing Boys by Stephen James
October: Blog: Understanding the Information Reformation that's Changing Your World by Hugh Hewitt
November: The Happiest Toddler on the Block: How to Eliminate Tantrums and Raise a Patient, Respectful, and Cooperative One- to Four-Year-Old by Harvey Carp, M.D.
December: Bringing Up Girls: Practical Advice and Encouragement for Those Shaping the Next Generation of Women by James C. Dobson
See more of what I'm now reading:
12 Books in 12 Months: July Update (Choosing to SEE)
Gratitude: July 24, 2011 (One Thousand Gifts)
12 Books in 12 Months: June Update (Dinner with a Perfect Stranger)
12 Books in 12 Months: May Update
Your Local Public Library: An Abundance of FREE Stuff