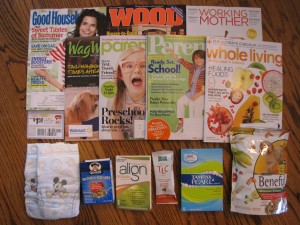 In all the craziness of preparing to move to California, my pile of free stuff has been growing!  Here are some of the freebies I've collected!
Good Housekeeping Magazine
Wood Magazine
Working Mother Magazine (2 Copies)
Walmart Wag World Magazine
Parenting: The Early Years Magazine
Parents Magazine
Whole Living Magazine
Huggies Diapers (2)
Quaker Oatmeal Squares Cereal
Align ProBiotic
Kashi TLC Layered Granola Bar: Peanutty Dark Chocolate
Tampax Pearl (Super)
Purina Beneful: Healthy Fiesta
What freebies have you collected this week?