When I was growing up in Maryland, Easter traditions included dyeing hard-boiled eggs, Easter baskets, Easter egg hunts at my grandparents' house, eating my Grandmom's Chocolate & Butter Cream Easter Eggs, Easter clothing, family photos (usually in front of a giant yellow forsythia bush), and a big meal at my grandparents' house.  Here in California, we don't have any family nearby and our kids are still little.  We have not had a lot of luck establishing any Easter traditions yet, but we have tried several different things!
Sometimes we dye eggs (even if it's a few days after Easter),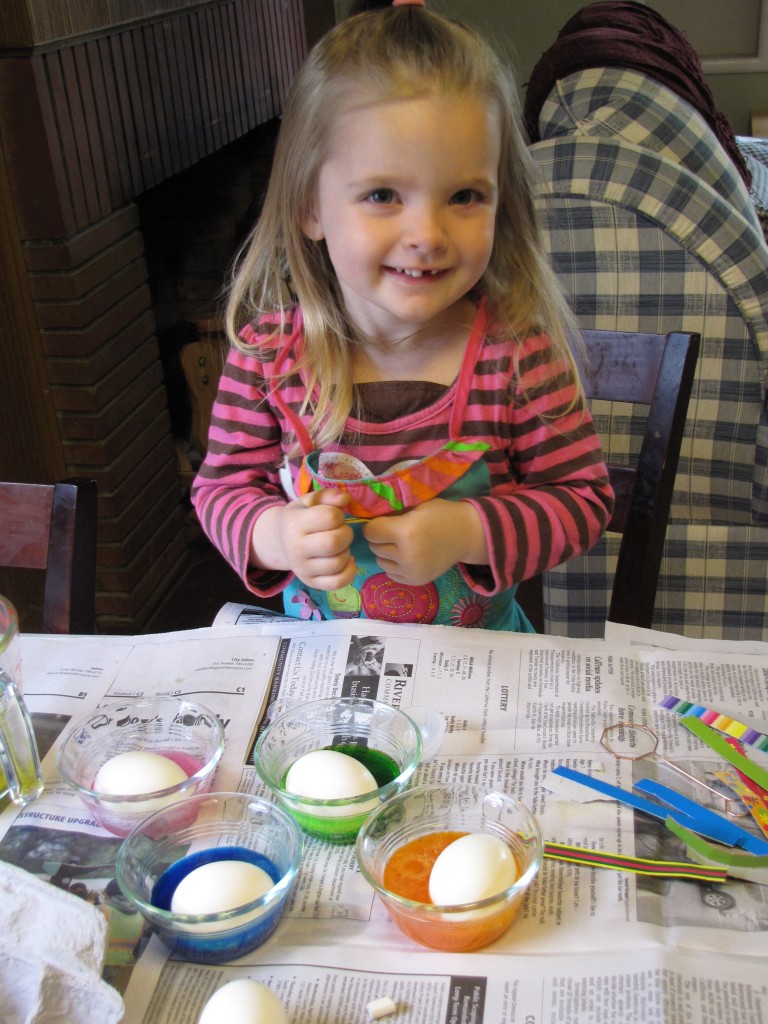 and sometimes I make my Grandmom's Chocolate & Butter Cream Easter Eggs.  (which are just as amazing as I remember them!)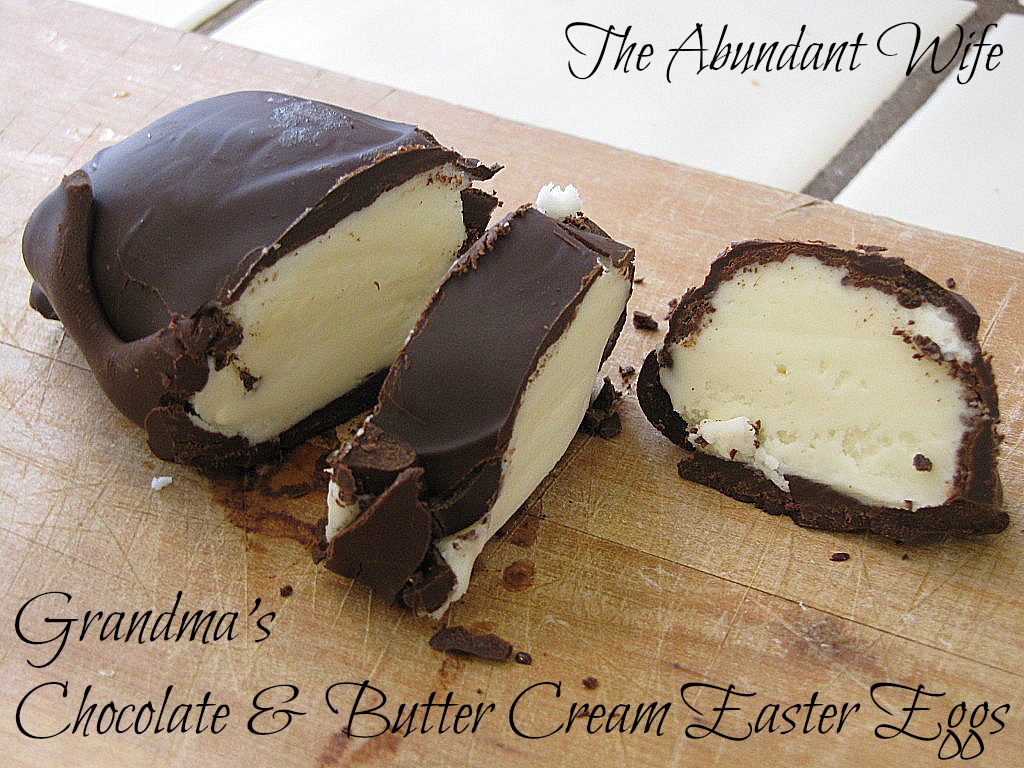 Once we had a mini Easter Egg Hunt in our backyard on Saturday,
and another time we participated in our church's Easter Egg Hunt on Sunday.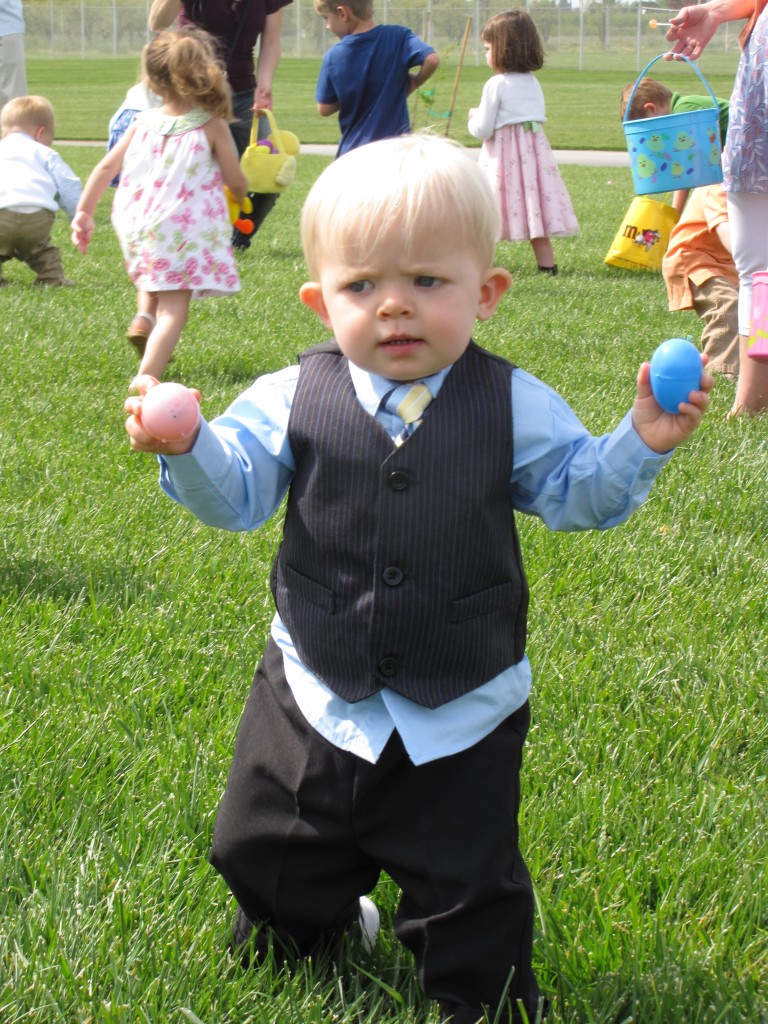 Sometimes I just dress the baby up in bunny ears and take photos.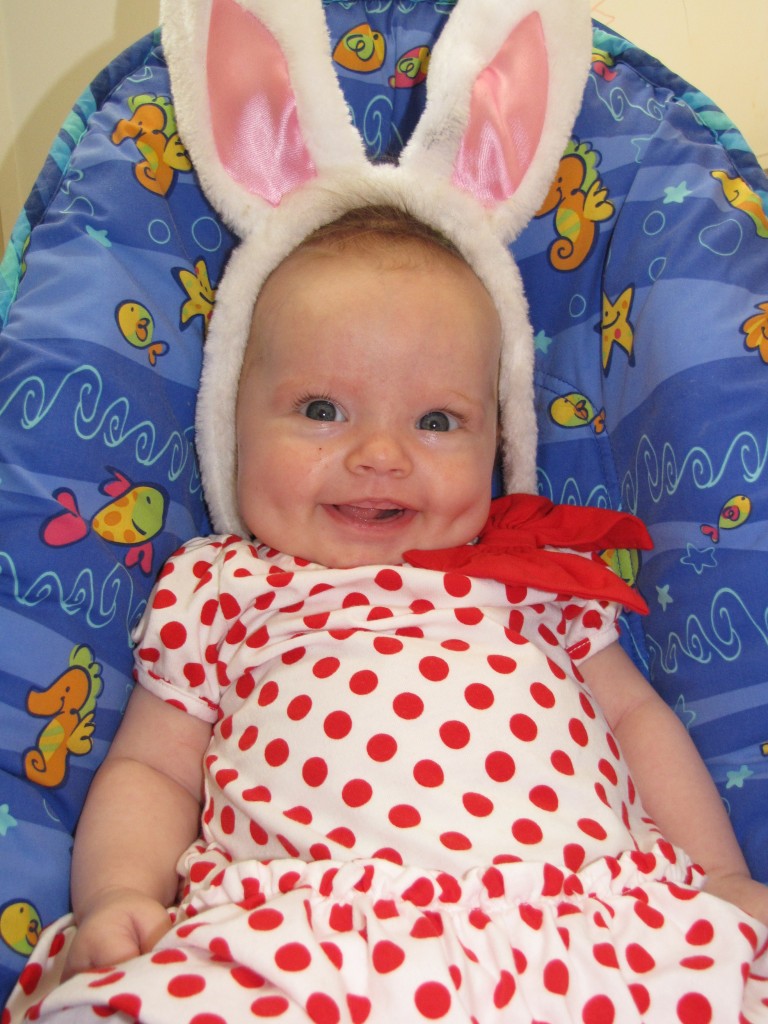 More than our Easter traditions though, what matters most is that we remember what we are celebrating:
When the Sabbath was over, Mary Magdalene, Mary the mother of James, and Salome bought spices so that they might go to anoint Jesus' body.  Very early on the first day of the week, just after sunrise, they were on their way to the tomb and they asked each other, "Who will roll the stone away from the entrance of the tomb?"  But when they looked up, they saw that the stone, which was very large, had been rolled away.  As they entered the tomb, they saw a young man dressed in a white robe sitting on the right side, and they were alarmed.  "Don't be alarmed," he said.  "You are looking for Jesus the Nazarene, who was crucified.  He has risen!  He is not here.  See the place where they laid him.  But go, tell his disciples and Peter, 'He is going ahead of you into Galilee.  There you will see him, just as he told you.'"  –Mark 16:1-7
The Bible tells us that there is no greater love than to give your life for your friends (John 15:13).  God loved us so much that he sent his one and only Son Jesus to die for us, while we were still sinners (Romans 5:8).  God did this so that everyone who believes in him will not die, but will have eternal life (John 3:16). 

Did you know that Jesus loves you so much that he died to give you life?  When he rose again, he gave us victory over sin and death (1 Corinthians 15:57).  Nothing can separate you from the love of God (Romans 8:38-39).  If you confess your sins, he forgives them and cleanses you from everything you've done wrong (1 John 1:9).  If you would like to invite Jesus into your life, you need only declare with your mouth, "Jesus is Lord," and believe in your heart that God raised him from the dead, then you will be saved (Romans 10:9). 

This Easter I hope you will reflect on the greatest love story ever told, and the One who paid the debt of your sin when he died on the cross.
Happy Easter!
 How does your family celebrate Easter?  Do you have any Easter traditions?