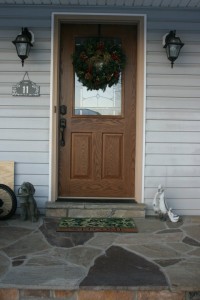 My parents have a brand-new front door.  It is a lovely front-door with a window in it, and some birds have begun to nest in the wreath that hangs on it.  It is just one of the many remodelings my parents have done to the house this past year.
I, however, am not fond of this door.  Unlike the previous door, the handle for this door is not a knob, but a lever.  So 21-month-old Naomi is now capable of grabbing the lever, opening the front door, and walking out on to the porch.  This has resulted in more than one heart attack for her poor mother.  We try to keep the door locked, but inevitably we lock someone out.  It can't be locked from the outside without a key, so when someone goes out, someone else must lock the door behind them.
Yesterday, while I was on the phone with Karilyn and nursing Oliver, Brad left the house to go running.  A few minutes later, I realized that Naomi was gone.  I left Karilyn (on the phone) and Oliver (screaming) on the kitchen floor while I ran through the house looking for her, growing more panicked and breathless with each step.  I checked every room twice, then the garage, backyard, and front yard. I began envisioning all the horrible things that could have happened to her.
After hanging up with Karilyn, I took Oliver and walked up and down the street calling her name until I was hoarse.  "Naomi…Na-Omi!…NAOMI!!!"  I was sure she had followed Brad out the door when he went running, and he had not seen her behind him.  Cars often coast our hill quickly without looking for small children.  I wanted to yell at every driver, "Stop!  My baby girl is lost!  Have you seen her?  Please slow down so that you don't hit her!" I called my parents and left a panicked message on their voice-mail.
Then I saw it.  The stroller on our front porch was missing.  Brad must have taken Naomi on his run with him.  By this point I was drenched in sweat, breathless, and hoarse.  I collapsed in the living room to nurse a fretting Oliver.  I was incredibly relieved to realize she was safe, and even more relieved when Brad rolled up with her in the stroller about 10 minutes later.  I smothered her in hugs and kisses, holding my two children close to me in joy and thankfulness.
Luke 15 tells the parable of the lost sheep.  "Suppose one of you has a hundred sheep and loses one of them. Doesn't he leave the ninety-nine in the open country and go after the lost sheep until he finds it?  And when he finds it, he joyfully puts it on his shoulders and goes home. Then he calls his friends and neighbors together and says, 'Rejoice with me; I have found my lost sheep.'  I tell you that in the same way there will be more rejoicing in heaven over one sinner who repents than over ninety-nine righteous persons who do not need to repent."
When I thought that Naomi was lost, I was near tears at the thought that I might not find her.  I dropped all my plans while I searched for her.  Once I knew where she was, I joyfully called Karilyn and my parents to let them know that she was safe with her Dad.  Isn't it wonderful to know that God seeks us and rejoices over us in the same way?