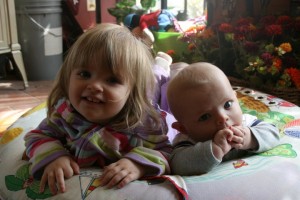 My children love routines.  Monday through Friday you will find little variation in our days.  My daily schedule looks something like this:
Wake Up, Shower, Breakfast, Bible, Journal, Read
Brad Goes to Work
Fold Laundry
Check E-mail & Facebook, Balance Checkbook, Pay Bills
Blog
Children Wake Up & Get Dressed
Breakfast
Bath
101 Dalmations Sing-Along Video
Lunch
Get the Mail
Children Nap (I Work Around the House)
Park or Walk or Run Errands
Brad Comes Home & Goes Running
Dinner
Naomi & I Draw
Naomi & Granddad Feed the Dogs
Reading with the Children
Children's Bed Time
Our Bed Time
Naomi especially loves our routine.  With her growing vocabulary, she is quick to remind me if I delay, skip, or forget one of our activities.  Both children love to sleep and become overtired when they miss out on valuable rest.
I thrive on a schedule too.  When Brad accepted his long-term substitute-teaching assignment in mid-February, I decided that I would get up too.  So for the first time I began getting up before the children.  I now love and look forward to my quiet mornings, and the opportunity to get myself prepared to face the day before I need to meet their needs.
What routines give structure to your day?  When are you most productive?