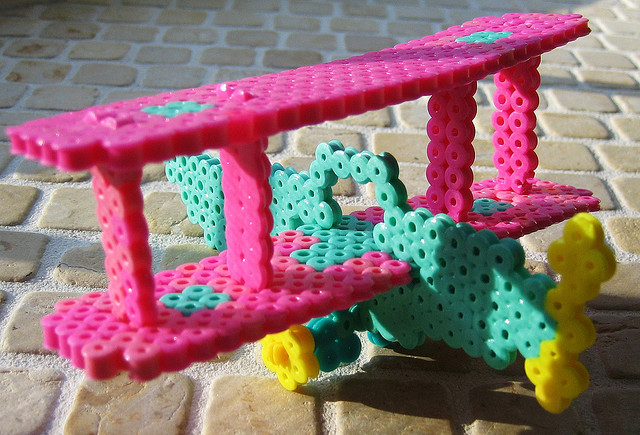 After all my years of traveling, perhaps I should just start writing a series on "How to Survive" various travel scenarios.  But today, I turn my lens on air travel with your toddler(s).  Whenever you travel by air, safety and obedience to regulations should be your top priority.  But beyond that, here are a few suggestions for surviving those long hours confined inside the airplane cabin:
Favorite Books: Don't pack too many or they'll be heavy to carry around.
Coloring Books/Activity Books and Coloring Tools: Crayola has these great Mess-Free Color Wonder Activity Pads that come with markers or paints that only leave colors on the page, and not on airplane seats!
Paint-by-Numbers: When the airline attendant brings you water, save a little in the bottom of your cup for painting.
Stickers: Stick them to the seats, windows, your clothes, etc.  Just remember to take them down when you're done!
Quiet Toys: Don't bring any that play repetitive music or make loud pops or other sounds.
Play-doh:  Press it into interesting places and see what imprints you can find.  (Just make sure he doesn't put it in his mouth, and that he washes his hands afterward!)
Bathroom Breaks: Diaper Changing?  Potty Training?  A change of scenery can help lighten the mood.
Walk the Aisle: Go for a stroll up and down the aisles of the airplane.  Greet the friendly airline attendants, and find other children who are tired of being confined.  Make friends, and stretch your legs at the same time.
Running: If you're up to it, encourage your toddler to run (accompanied by an adult) through the airport when you change flights.  She'll burn off some of that pent-up energy she's built up on the airplane.
Talk: Talk to your toddler about what you'll do when you arrive, and who you will see.  Look at photos of people you will meet and learn their names.  Point out interesting things outside and inside the airplane.
Favorite Drinks & Snacks: You'll save money if you prepare these ahead of time.  Remember, a hungry or thirsty child is a cranky child.  Be sure to choose items and packaging that won't make a mess.
Favorite Snuggle Toy: If your child usually sleeps with a favorite blanket or doll, bring it along if you can.  He'll be more likely to fall asleep with his favorite "baby" by his side.
Aside from these suggestions, I've found "new" items really thrill my kids.  Before the trip I set aside a few special items that the kids haven't seen before or don't remember.  Then when we get on the airplane, they are even more likely to be fascinated by the things I pull out of their bag.
What are some of your suggestions for entertaining toddlers on an airplane?