One of the ways that I save money is by "shopping from my pantry."  Recently I noted that I had all the ingredients on hand for Barbecue Chicken.  I remembered an easy recipe that I'd spotted on Pinterest.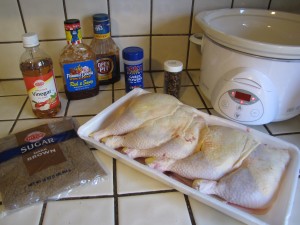 Crockpot Barbecue Chicken
4-6 Pieces Boneless Skinless Chicken Breasts
1/2 – 1 tsp. Garlic Powder
Directions: Mix all the ingredients (except for the chicken breasts) in a bowl.  Place chicken in crockpot.  Pour your sauce over the chicken and cook on LOW for 4-6 hours.
The recipe was just as easy as promised.  We had more than enough Barbecue Chicken for 2 meals.  Thank you to "Stick A Fork In It" for the delicious recipe!
If you'd like to follow me on Pinterest, you can click here!