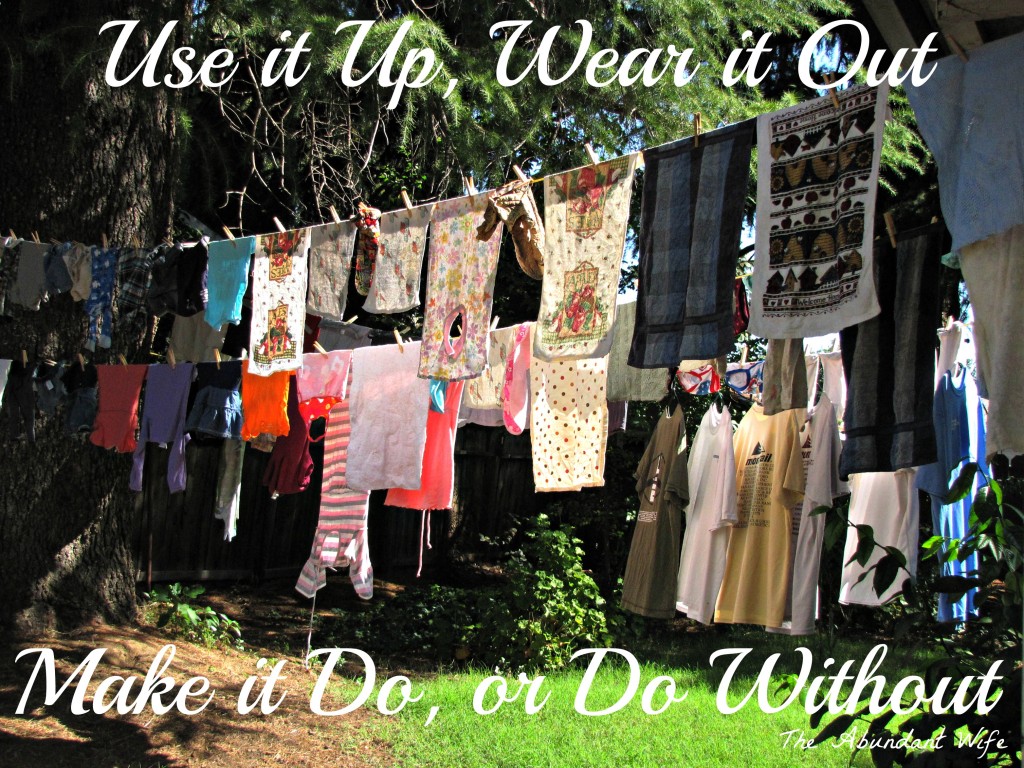 During the Great Depression, a popular aphorism was "Use it Up, Wear it Out.  Make it Do, or Do Without."  If you have spoken to or spent time with someone who lived through the Great Depression, you will notice that many consider frugality a virtue.  Our grandparents learned the hard way how to make things last.  Getting through hard times means changing your mindset.  If you want to get out of debt and live within your means, you have to stop buying new things.  In fact, you may even have to do without some things.  What follows are some of the things we do without, or have done without, during our eight years of marriage:
Dishwasher–We haven't had a dishwasher since 2007.
Garbage Disposal–We haven't had a garbage disposal since we got married in 2005.
Dryer—We didn't have a dryer from 2007-2010.  We still hang our clothes to dry when the weather is warm.
Second Vehicle–We didn't have any vehicles when we lived in China from 2007-2009, and in 2011 we sold our second car.  We've been a one vehicle family ever since.
Shampoo and Conditioner—I went almost 2 years without buying shampoo and conditioner, relying on free samples and DIY recipes.
Brand Names—We like a few brand names, but we have abandoned brand loyalty in most areas of our life.
New Clothes–From 2007-2012 most of our new clothes were hand-me-downs or gifts from family and friends.
Salon Visits–In 2010 I learned how to cut hair, and I've been doing our family's hair ever since!
Car Washes–Brad and I get two free car washes a year at our local car wash on our birthdays.  Otherwise, we wash our cars at home.
Dining Out–We rarely eat out unless we have a great deal.  Instead we pack meals, potluck, invite friends to our home, and eat at friends' homes.
Disposable Diapers—We have cloth-diapered our children for almost 5 years now.
Disposable Wipes—Brad cut up his old t-shirts to make wipes, and we've been doing that for almost 5 years also.
Movies at the Theater–We rarely go out to watch a movie at the theater because it's so much cheaper to watch at home.
Paper Towels–I never buy paper towels.  Old rags work just as well, and they can be washed and reused.
Laundry Detergent—Brad makes DIY laundry detergent to save money.
CD Player in our Truck–The CD player in our truck hasn't worked in at least 6 years.  Brad plugs in his iPod, or I just listen to the radio.
Smart Phones—Brad and I finally upgraded to smart phones this year, but we went 7 years without smart phones.  We didn't have texting or a data plan until 5 months ago.
Mortgage–Although Brad and I still own a home in Maryland (which is covered by our renter), we chose to rent our home in California so that we could pay off our debts.
Although you may not be able to do without all the items on my list, you may have some things in your home or lifestyle that you could do without.  Could you learn a new skill (like hair-cutting), cut an unused service, or refuse to replace something when it breaks?  Don't try to give up everything at once, but instead choose one thing at a time.  It will take time to adapt to your new frugal lifestyle, but you may be surprised by how much you can do without.
What are some things that you have had to (or chosen to) do without over the years?