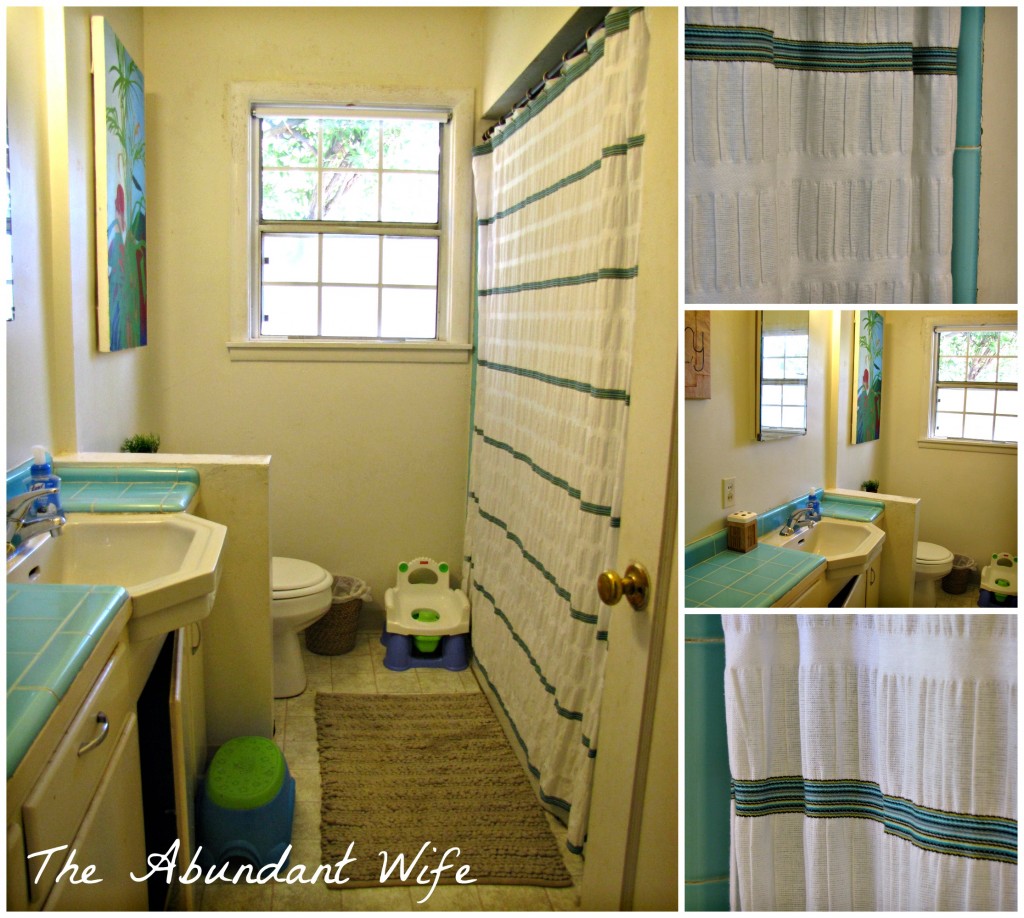 When we moved into our house in September 2011, our youth ministry committee was kind enough to prepare it for us.  They spackled, sanded, sprayed, and painted our entire house white.  Later that week they helped Brad and I paint 5 of the 6 rooms a solid color.  However, the bathroom linoleum and plumbing were being repaired by another person, so we never got around to fixing up the bathroom.  I have to admit that I was disappointed when I saw the turquoise tiles.  I tend toward warm-colored neutrals, and I didn't have a single thing that would suit turquoise tiles.
Do you have a room in your house that you dread entering because of the amount of work required to fix it up?  Well, that was our bathroom.  Gradually we've made one small change at a time.  We removed excess bars and towel hangers from the tile and walls.  We patched large holes.  We washed the light fixture.  We removed the contact paper from the windows.  We hung blinds.  We hung pictures.  We installed door stoppers.  A year after we moved in the landlord replaced all the plumbing in the house, including all the fixtures like the faucets and shower head.  Just last month I finally installed child locks and removed the old magnetic latches that refused to open or close properly.
Still, the room lacked unity.  I had a dark red rug on the floor that was a wedding gift, and the plastic trash can covered in a pastel baby design was a baby shower gift.  The only shower curtain was a shower curtain liner, which was looking worse and worse.  Last April when I cleaned the shower curtain for my 30-Day House Cleaning Challenge, it inspired me to think of other ways I could spruce up our bathroom.
Last fall I finally began shopping around for a shower curtain that would suit our turquoise tiled bathroom.  I had a number of Target gift cards, and began to look at their selection.  I fell in love with the curtain you see above, because it reminded me of a woman's skirt.  I also picked up the silver curtain hooks, the tan rug, and the woven trash can to match.  There is still a lot of work to do: curtains, a curtain rod, sanding, spackling, painting walls, painting cabinets inside and out, and installing some new towel hooks.  However, I could not be happier with the accessories that I bought at Target (at no cost to me!)  They made an unbearable room, bearable.
Do you have a room in your house that you dread entering?  What small changes could you make to spruce it up?