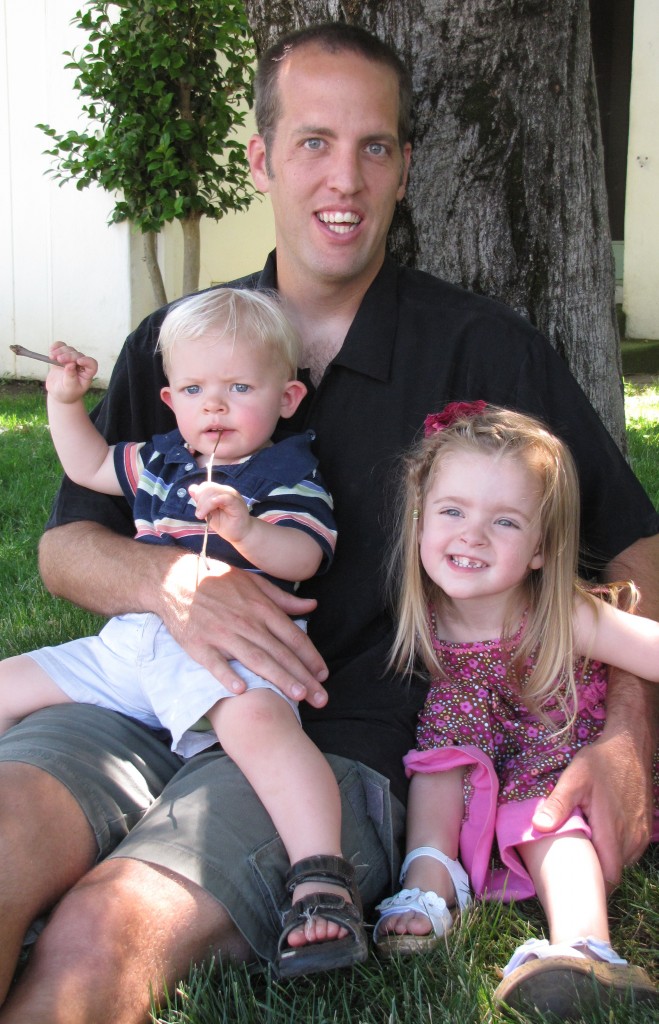 Two doors down from our house is a family that keeps a large kiddie pool filled with water in their driveway.  Tonight as we were walking by, they invited us again to come over for a swim.  After yet another hot day (it's been in the triple digits all week), a dip sounded perfect.  So we went home, and Naomi and Oliver quickly donned their swimsuits.  We returned with our beach towels, and the kids hopped right in while we women watched from our lawn chairs.  At one point I counted five children, five moms, two kittens, and one cat in the little driveway.
As the kids played, we talked about family and work and homes.  One woman talked about her daughter and her ex-boyfriend and her artwork.  She lives with her mother and her sister, and her sister's kids.  Another woman talked about her full-time job, her two sons, and her ex-husband.  Her mother watches her kids while she works, and her older son lives with her ex-husband.  Another woman chatted about her grandchildren and a recent trip out of town.
As I listened to their stories and their interactions, I looked around and it dawned on me that I was the only woman in the group who is currently married and living with the father of my children.  Every other woman there was working and living as a single mother or grandmother, living with or dependent on other women for support and/or help in child-rearing.  As I listened to these women talking, I contemplated how difficult my life, and my children's lives could be without a husband and father like Brad in our lives.
A quick Google search revealed the statistics that most of us already know.  Of 10 industrialized nations who keep such statistics, the United States comes in last place with 21.2% of its children living in a home without a father (Unicef, 1996).  In 1998, just 27% of American kids lived with both their biological mom and dad (USA Today) and that number is climbing.  According to the 2009 U.S. Census, 24 million children in America — one out of three — live in biological father-absent homes (National Fatherhood Initiative).
I think that, day in and day out, I take for granted how blessed I am to have Brad for my husband.  I have the luxury of staying home and raising my children myself, while Brad earns the income that provides for our family.  I have a husband who backs me up when our children need discipline, and who serves as the spiritual leader of our household.  He thanks me for my cooking, helps with the dishes, does most of the laundry, and encourages me to pursue my dreams.  We aren't perfect, but we are a team.  Brad is an amazing husband, and a fantastic father.  I just cannot imagine the difficulty of traveling this road called parenthood without him by my side.
So, although I know I am a little late for Father's Day, I just want to say "Thank You" to all the men out there who have stood by their wives, and still stand by them, as husbands and fathers.  Thank you for sticking with us, through thick and thin, and for being the man God has called you to be.  Such commitment and dedication to excellence is rare and valuable.  Thank you for loving us when we are hard to love, and for being unselfish in putting your family before yourself.  Thank you for teaching our daughters what kind of man they should marry, and for teaching our sons what kind of man they should become.
And thank you Brad for being my husband these last 6 ½ years.  It's been a wild ride, but I do not regret saying "I do."  I love you!