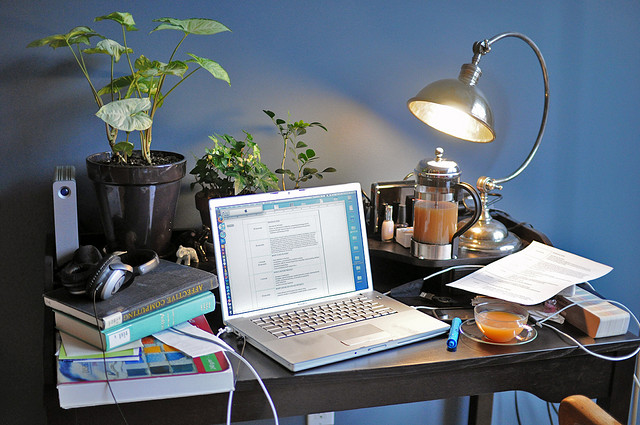 My personal goals in recent years have been to work for myself, create multiple streams of income and pay off debt. It may seem like a lot of work–and in truth, it is. However, I also know that hard work can greatly benefit my family. Thankfully, most of my work is done from home and on my own time, that way I don't have to sacrifice time with my family. Here are a few income earning ideas that I've enjoyed pursuing in my own day to day life:
Find Online Freelance Work
I signed up for a third party web site where I could contract my services. I started out working on a weekly basis and eventually worked my way up to a daily basis. Not only do I meet the threshold that I set for myself, but I earn additional money that can be used for other needs. If you enjoy writing, designing or other creative outlets, all you need to do is create a portfolio for yourself. Sign up for several web sites and apply for jobs that interest you.
Create A Website And Blog
Another venture that I took, was creating a web site and several blogs. I researched the best ways to streamline my work, found niches that I enjoyed and set out to earn extra income. Now, I am able to bring in a regular amount of money through sponsors and paid content. It took a lot of work and planning in the long run, but it has really paid off in the last six months. My number one goal for anyone interested in this kind of online work, is to find a mentor. Getting valuable advice and encouragement has made all the difference for me personally.
Put Your Hobbies To Work
My husband and I both enjoy creative outlets in photography and graphic design. We usually take on a project or two a month to earn additional money. Other ideas that have been useful have been helping move furniture, dog sitting, house sitting, baby sitting and several other outlets. We certainly didn't get rich, but it was a nice way to boost our savings or pay for something we needed. If you enjoy something, figure out if there is way to earn money through that hobby.
Get Creative
There are literally hundreds of avenues out there that will allow you to earn additional income. The goal for you should be to find something you enjoy and that can work for your schedule. Even if you work full time, you can easily devote two to three hours a week to earning additional money. Get creative with your pursuits and chances are, you will find something that works for you and helps you boost your current financial standing.
Heather Pedersen runs Work At Home Market while balancing her role as a wife to Joshua, homemaker and photographer. She loves a good cup of coffee, great books and date nights with her love.