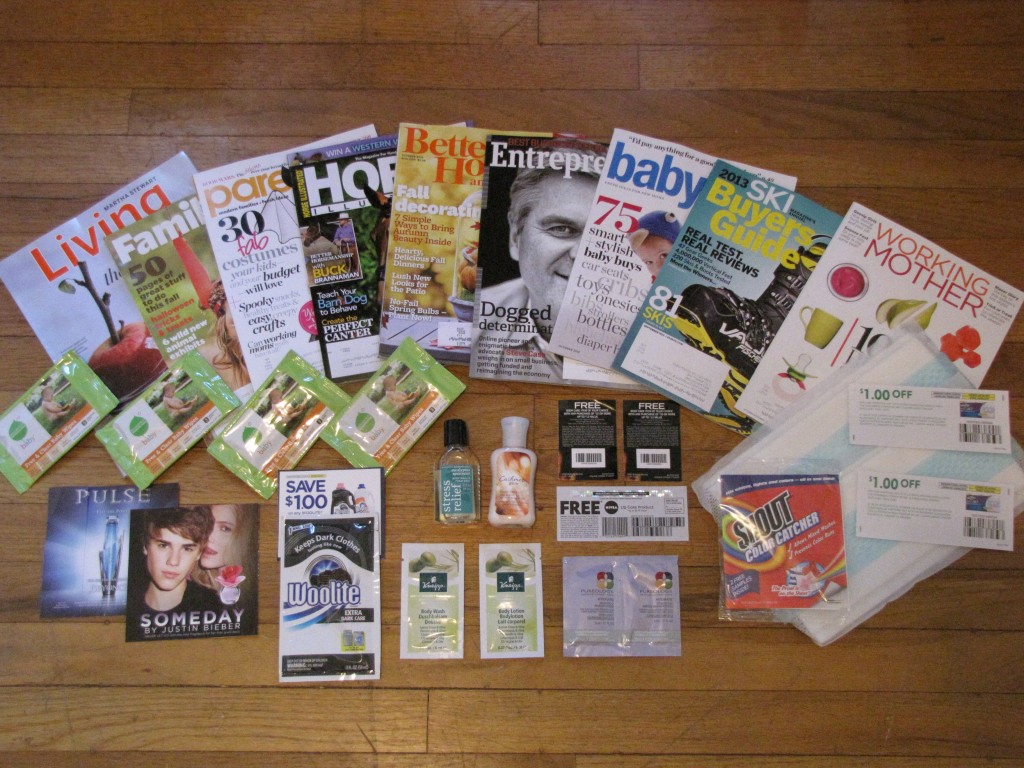 Every day when I turn on my computer, I open 4 websites first: Gmail, Facebook, The Abundant Wife, and Money Saving Mom.  When I go to Money Saving Mom, I open up any freebies that she has posted for the day, and apply immediately!  Most ask for the same basic information: name, address, e-mail, phone number.  Applying for freebies makes every visit from the mailman an adventure!  My kids love to see what I will find in the mailbox too.  Here is the round-up from the last few weeks!
Magazines: Working Mother, Ski, Babytalk, Entrepreneur, Better Homes & Gardens, Horse Illustrated, Parenting, Family Fun, & Martha Stewart Living
Seventh Generation Free & Clear Baby Wipes (4 Packages of 3 Unscented Wipes)
Coupon for FREE Nivea Lip Care Product
Bath & Body Works Eucalyptus Spearmint Stress Relief Body Wash & Foam Bath (2 oz.) and BOGO coupon
Bath & Body Works Cashmere Glow Body Lotion (2 oz.) and BOGO coupon
Woolite Detergent Extra Dark Care (2 oz., 1 wash load) and coupon
Perfume samples: Beyonce "Pulse" and Justin Bieber "Someday"
Kneipp Natural Skincare Body Wash and Body Lotion (Lemon Grass & Olive)
Pureology Serious Color Care Shampoo & Conditioner
Shout Color Catcher (2 samples)
2 Swiffer Wet Jet Extra Power Pad Refills with 2 coupons
What fun freebies have arrived in your mailbox this week?