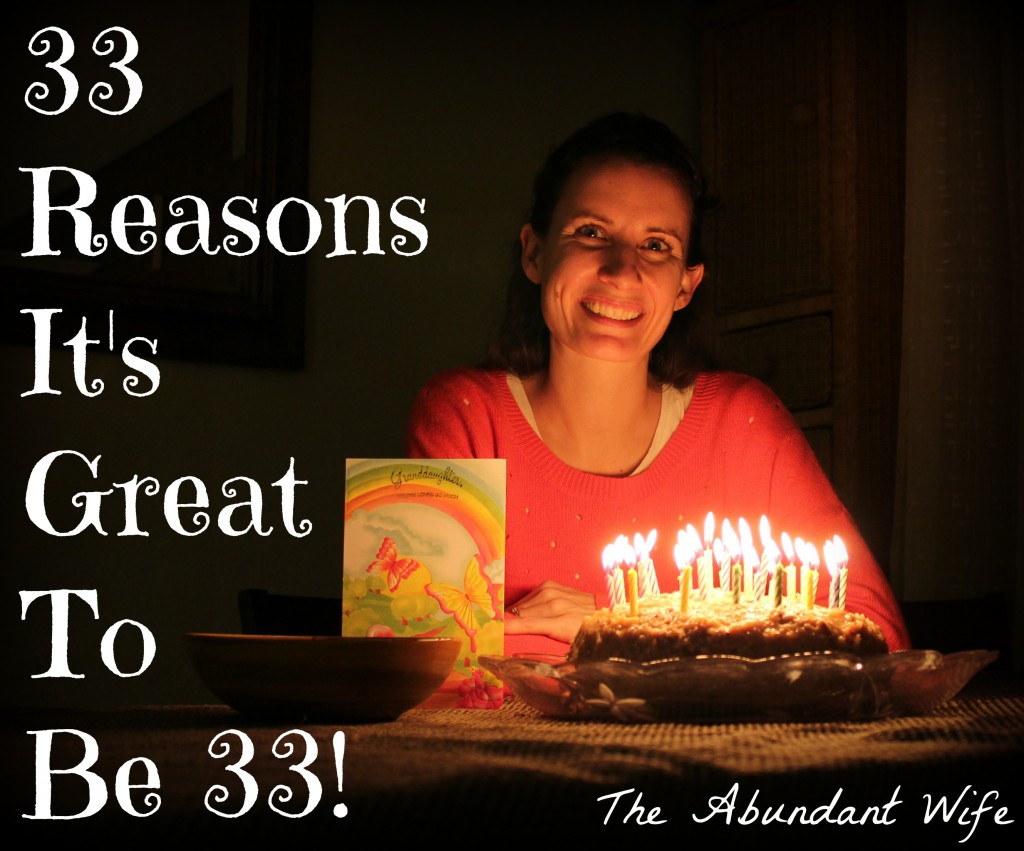 I recently celebrated my 33rd birthday.  An older woman at church that Sunday wished me a happy birthday, and then followed it up with, "You don't have to tell me how old you are."  I laughed and told her I'm 33.  For some people I guess 33 is a sobering (or embarrassing) number.  If I live to be 100, I'm about a third of the way through my life.  But for me, 33 is a wonderful number.  I am not ashamed of my age.  I have lived a full, beautiful, amazing life.  I wouldn't want to lose any one of those 33 years, or the things I learned along the way.  At 33 years old I am doing what I always dreamt I would do.  In fact, I wish I could freeze time and stay 33 for the next 67 years because I love these "little years" with my children.  Here are 33 reasons I think it's great to be 33:
1 Fantastic Husband
2 Great Parents
5 Amazing Siblings
6 Kids' DVDs to Distract My Kids
7:15am Waking Up to Naomi & Oliver Singing "Happy Birthday!"
9 Years Since Our First Date
11 Countries I've Visited in the World
12pm Phone Call from my Sister
14 Years Pimple-Free
15 Years Since I Graduated From High School
16 Years Since I Grew Out My Perm
19 Years of Schooling (Elementary, Middle, High, UnderGrad, Grad)
23 Days in Arizona This Summer
24 hours since I was Exempted from Jury Duty
$25 Birthday Check from my Grandmother
26 Candles on my German Chocolate Birthday Cake (that's all we could find!)
30 Years Since my Parents Moved from Pennsylvania to Maryland
33 States I've Visited in the United States
If you've celebrated a birthday recently, or will be celebrating one soon, I challenge you to generate a list of reasons why it's great to be your age.  You might be surprised by how much you have to be grateful for!
"Do not regret growing older, it is a privilege denied to many."–Unknown