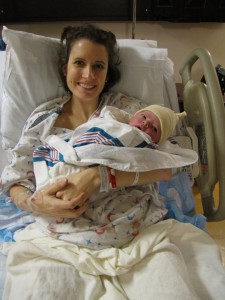 "While they were there, the time came for the baby to be born, and she gave birth to her firstborn, a son."  Luke 2:6
Oliver Andrew was 12 days overdue, and we were beginning to wonder if he was staying inside to avoid the cold weather!  He surpassed everyone's predictions of his birth date.  Ed hoped he would be born on Pearl Harbor Day.  Karilyn and Brian hoped he'd be born on their birthdays.  I wanted to finish my Christmas shopping, and my mom wanted him to wait until she returned from Kansas.  I had more than enough time to scan his sonograms, bake cookies with Naomi, and get over a head cold.  I was eager for him to come, tired of endless itching, his feet in my ribs, and lying awake for hours every night.  Brad had taken 9 days off of work and had a substitute teaching job on Friday, so he wanted Oliver to come before or after that job.    Finally, Dr. Kim scheduled a check-up with me on December 16 at 12:00pm, during which he hoped to discuss inducing me.  I was not excited about this, and was hoping Oliver would arrive before the appointment.
On the morning of December 16, I awoke at 4:30am as usual, and went upstairs to sit in front of the fire, do my daily devotional, and read a book since I couldn't sleep.  After greeting my dad and Josh as they came into the kitchen at 7:30am, I returned to bed and slept until 8:30am.
8:30am I woke up experiencing harder contractions, gradually growing closer together.  When they first began they were 19 minutes apart, then 17, then 15…
9:30am My mom called downstairs to say that a man was coming to install the new front door, so we should go ahead and get a shower if we wanted one.  I told Brad that the contractions were harder, and that this might be it.  I told him I was going to shower and get ready, and so he got ready too.
10:00am-11:30am Brad and I showered, got dressed, got Naomi dressed, gathered our bags and toiletries, and ate breakfast.  We called my mom and asked her to come home from Bible Study to babysit Naomi.  Then we called Dr. Kim, my Dad, and Brad's parents.  The contractions were steadily growing harder, but were irregular in timing.
11:30am-12:00pm Brad drove me to the hospital.  My contractions were 5 minutes apart, but I was not screaming in the car as I had with Naomi.  In fact, I didn't scream at all until the last moments of delivery.  The traffic was slow-moving due to the snow which was coming down faster and sticking to the ground.  Eventually 3-4 inches would cover the landscape.  Traffic was at a stand-still a few miles from the hospital.  Brad and I contemplated driving on the shoulder, but traffic began to move again slowly after a few minutes.
12:00pm-12:52pm When we arrived at the hospital, we were taken to registration, which surprised me since I had pre-registered (twice) in the weeks before my due date.  Brad took advantage of the valet parking, but otherwise things seemed to be moving in slow motion compared to Naomi's birth.  We decided later that perhaps it was because I was so calm, as compared to my screaming arrival for Naomi's delivery.  Anyhow, Brad pushed my wheelchair, juggling some of our bags, while I had the others on my lap.  After registration, I was weighed, and then taken to Triage.  Brad and I looked at one another puzzled, because we knew we should be on our way to Delivery.  In Triage I changed my clothes and the nurse was about to hook me up to some monitors.  After a few contractions though, she decided to measure my dilation instead.  We had to laugh when she yelled down the hallway, "We have a 6!"  I was ushered immediately to Delivery.
In Delivery, I climbed on the bed while Brad sat our luggage down on the floor across from me.  My nurse, aptly named "Angel," stuck a needle in my wrist for fluids, and then left us alone.  As she left, she told me I could walk around or get down off the bed if that would be more comfortable.  Brad helped me through each contraction, watching the monitors, helping with my breathing, and holding my hands across the bed while I squatted next to it.  At one point tears ran down my cheeks, but otherwise it was pretty quiet.  The hardest contractions did not seem as painful as they had with Naomi.  Angel reentered and asked me to tell her when I was ready to push.  I answered, "Umm…I guess that would have been at the last contraction."  Angel suggested I get up on the bed again so she could measure me.  She said I was 8cm dilated, and I leaned forward to push again.
Dr. Kim arrived then and asked me to lean back so that he could check me.  He informed me that the baby's head was right there, ready to go.  He broke my water, and immediately I screamed in pain as the baby surged outward.  I told Brad to come over near my head, and he leaned close thinking I wanted to tell him something.  Instead I wrapped my arms around his head, and hung onto his neck while I pushed.  Dr. Kim told Brad he wanted him to hold my legs while I pushed, and Brad answered, "I can't!  She's got me!"  He talked me into letting go, and then held one of my legs for the delivery.  The baby was coming so fast that Dr. Kim had to perform an episiotomy immediately without anesthesia.
12:52pm Oliver Andrew was born!  He weighed 9lb 10oz, had a 14.5 inch head, and was 21 inches long.  He was born 52 minutes after we registered at the hospital.  Brad says I'm "a beast" for delivering 2 babies in under an hour.  (Naomi was born 43 minutes after we arrived at the hospital).  There was no meconium this time, so after Dr. Kim delivered Oliver, he placed him right in my arms.  Oliver was wiggling and noisy with his eyes wide open looking around.  He was still slimy, so I blotted his skin with the blanket they wrapped around him.  Because he was so long overdue, his fingers and toes were very wrinkly, so we dubbed him our "little old man."  We studied his light brown hair, big blue eyes, and chubby cheeks.  After a few minutes they took him behind the curtain to clean him up, and I realized what no one had told me.  I turned to Dr. Kim, and said, "Were we right?  Is it a boy?"  Dr. Kim laughed and said, "Yes, he is a boy."  (He was wrapped up in the blanket, so I didn't notice).  While they cleaned up Oliver, Dr. Kim dealt with the afterbirth, gave me a local anesthesia, and then stitched me up.  On his way out of the room, Dr. Kim paused and said, "Congratulations." And then, almost to himself, he said, "Big baby.  Very big baby."
1:00pm Angel allowed me to shower in the Delivery bathroom before moving me to Recovery.  Brad helped me to get cleaned up and also videotaped Oliver's first bath and vaccinations.  Oliver nursed like a champion, and needed no coaxing.  In fact, he chomped down so hard that I wondered if he'd ever let go!  Thanks to the snow outside and the traffic, it took my dad 40 minutes to get from his clinic (2 exits away) to the hospital.  My mom, Josh, and Naomi arrived over an hour later, also delayed by the weather.  They found Oliver sleeping peacefully and sucking his thumb.
I recovered much faster and with much less pain from Oliver's birth compared to Naomi's birth.  We came home on Saturday, and even went to church on Sunday!  I think the speed of delivery and recovery made it much easier for me to enjoy Oliver's birth and arrival, and to transition from one child to two.  I was once again, and am always, blessed by how Brad humbly served me throughout and performed many tedious tasks for my benefit.  We spent many wonderful moments together praying over our new baby boy and celebrating our Christmas miracle.  What a blessed gift Oliver Andrew is to us, and what a wonderful way to celebrate our Savior's birth!
"For unto us a child is born, unto us a son is given: and the government shall be upon his shoulder: and his name shall be called Wonderful, Counseller, The mighty God, The everlasting Father, The Prince of Peace."  Isaiah 9:6