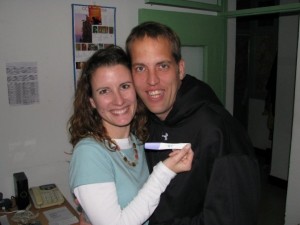 Every good gift and every perfect gift is from above, coming down from the Father of lights.
On Thursday night I was getting ready for bed, I experienced the most unusual of sensations. I eyed myself in the mirror as I changed into a tie-dyed t-shirt and pajama pants. Nothing seemed different at first glance. Yet I felt…different. I gently examined myself, finding my flesh more rounded, tender, and tingling. I asked Brad if he could see a difference.
"You're pregnant!" he said, after studying me for a moment.
"I am not! That's not even a symptom of pregnancy!" I replied, disbelieving.
I went to grab a book on pregnancy, reading aloud:
"Symptoms include darkening skin, enlarged glands, fatigue, smell sensitivity, bloating, mood swings, urinary frequency, flatulence, nausea…tenderness and tingling sensation."
My mouth dropped open. Aside from nausea, I'd experienced every symptom on the list.
That's when I knew.
Over the next few days I was more than a little distracted. My body felt completely different in my clothing, and made me self-conscious. Could everyone see it? But no one noticed at all. It was all I could do to wait until Sunday to take the test. On Friday I almost caved, but then put the test away again. On Saturday, my curiosity and excitement got the best of me. I rolled out of bed, exhausted from a bad cold, and took my test to the bathroom. Two minutes later I had my answer. A little blue plus sign announced a new life to the world.
"Brad…we're going to have a baby!"
The news was not a surprise. We'd planned to have a baby in the summer of 2009 over a year ago, hoping to have our first child at home during our summer vacation, surrounded by family and friends. A July baby fits the bill perfectly. We did our homework, talked to the OB/GYN, checked to see that our insurance covered pregnancy, checked to see that the OB/GYN accepted our insurance, asked about prenatal care in Beijing, talked to our boss, picked up books, calculated dates, and most importantly…talked to our Father. We were prepared for this result. Yet can you ever prepare for the first time you realize that your body is changing because someone else is living in it? Suffice to say, Brad and I could not be more excited to be pregnant with our first child! So much talking and dreaming and planning and imagining has gone into this venture into parenthood.
Telling our family and friends was almost more fun than finding out for ourselves! We told our team first, and enjoyed watching their responses go from curiosity to confusion to recognition and then excitement. Brad woke his parents and Mr. Bair at home with the good news. They were groggy but happy to hear about our discovery. I got to video-Skype my parents, Kristy, Karilyn, and Josh together and hear their gasps as I told Mom and Dad that they are going to be grandparents. Kerri and my grandmother were equally surprised when I reached them Sunday night. We called our boss and friends at home and in China and loved listening to everything from surprised gasps, shrieks, and screams to proud congratulations.
For now we have only told our team here in China and our family and friends at home. We hope to hold off on telling the students and faculty until the latter part of this semester. We hope that you will all keep the three of us in your thoughts as we seek prenatal care in Beijing and begin this nine-month process called pregnancy. The first trimester is the most crucial time, so please think of us especially in these early months. Thank you for all of your thoughts on our behalf. We are so excited as we embark on this new journey into parenthood together!
Love,
Jessie and Brad
For you created my inmost being; you knit me together in my mother's womb. I praise you because I am fearfully and wonderfully made; your works are wonderful, I know that full well. My frame was not hidden from you when I was made in the secret place. When I was woven together in the depths of the earth, your eyes saw my unformed body. All the days ordained for me were written in your book before one of them came to be.