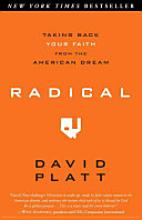 As many new mothers can attest, there is little time for reading when you have little ones.  So this year I am setting the modest (or ambitious, depending on your perspective) goal of reading 12 books in 12 months.  I have gotten a little behind with the beginning of this blog, but I hope to be caught up again soon. Please let me know of any good books you can recommend!
January: For Women Only: What You Need to Know About the Inner Lives of Men by Shaunti Feldhahn
Feburary: Bringing Up Boys: Practical Advice and Encouragement for Those Shaping the Next Generation of Men by Dr. James Dobson
March: Crazy Love: Overwhelmed by a Relentless God by Francis Chan
April: When God is Silent: Choosing to Trust in Life's Trials by Charles R. Swindoll
May: Radical: Taking Back Your Faith from the American Dream
June: What to Expect: The Second Year: From 12 to 24 Months by Heidi Murkoff
July: Dinner with a Perfect Stranger by David Gregory
August: Choosing to See: A Journey of Struggle and Hope by Mary Beth Chapman
September: Wild Things: The Art of Nurturing Boys by Stephen James
October: Blog: Understanding the Information Reformation that's Changing Your World by Hugh Hewitt
November: The Happiest Toddler on the Block: How to Eliminate Tantrums and Raise a Patient, Respectful, and Cooperative One- to Four-Year-Old by Harvey Carp, M.D.
December: Bringing Up Girls: Practical Advice and Encouragement for Those Shaping the Next Generation of Women by James C. Dobson