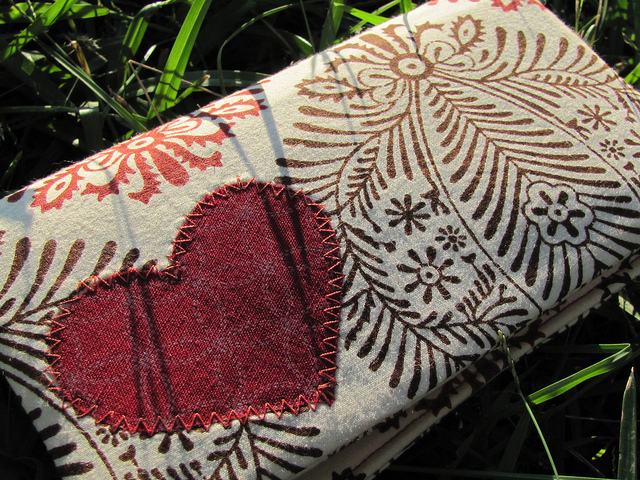 Last Thursday night I was rushing around preparing for a visit from the notary, the final step in our 4-month long refinancing process.  Aside from our signatures on a large pile of documents, the only other thing he needed was a check.  I opened the drawer where I usually keep it, but there was no checkbook there.  I looked high and low, in my file basket, in my desk, in my bag, in my folders, in my lock box.  Nothing.  Finally I remembered that we keep two checking accounts (one in Maryland and one in California), so I could just write the check from the other account and repay it later.
While I was looking for the checkbook, I became very angry at Naomi and blamed her for the missing checkbook.  During the final week of refinancing, I had left the drawer containing the checkbook open, and she had emptied the contents all over the floor.  I was sure that she had misplaced the checkbook at that time.  She didn't really understand my frustration or how to help me, as she had no idea what a checkbook was.  Instead she brought me her other books hoping they'd be what I wanted.
On Friday morning I began looking for the checkbook again.  Our paycheck had arrived and I needed to pay the rent so that I could get it in the mail before the weekend.  Again I looked everywhere, removing the drawer from the desk, searching through art supplies, and anywhere else it might have fallen.  I grew more and more frustrated, lamenting that last week Naomi had taken sketches of a painting I was creating (which has yet to be proved), and now this!  Brad finally told me that I should call the bank and tell them which checks were missing so that they could be cancelled.  I hated this idea because I hate wasting anything, even checks (especially checks that might be right under my nose).
I finally resigned myself to calling the bank.  I had a new checkbook beginning with #126, so I needed to know how many checks were missing between #101 and #125.  I opened our financial binder to the balance sheet, and stared in disbelief.  The last check I had written was #125.  I flipped back though the balance sheet, and then checked our bank account on-line to be sure.  Yes, I had written the last check in the checkbook, and I had thrown away the checkbook when all the checks were gone.  Naomi was not at fault; I was the one to blame.
In Matthew 7:3-5, Jesus tells his disciples, "Why do you look at the speck of sawdust in your brother's eye and pay no attention to the plank in your own eye? How can you say to your brother, 'Let me take the speck out of your eye,' when all the time there is a plank in your own eye? You hypocrite, first take the plank out of your own eye, and then you will see clearly to remove the speck from your brother's eye."  As I searched for the missing checkbook, I was so focused on placing blame, that I could not see my own guilt in the matter.  I judged Naomi immediately when I should have offered her grace.
I wish I could say that this was an isolated incident, but too often in my life I have judged quickly instead of offering grace.  I get mad instead of merciful, critical instead of compassionate.  I am so glad that God is not like this with me, and He continues to show me grace, compassion, and mercy when I am deserving of judgement, separation, and punishment.  I am so thankful for a God who sent His Son to die for me, even as I continue to sin against Him.  What a wonderful Father, and a loving Savior He is!
In conclusion, Naomi and Brad forgave me immediately, accepting hugs and apologies for my short temper.  I am indeed blessed to have a family that shows me more grace and mercy than I show them.  They daily remind me of God's love for me, and His patience with my many faults.
"But God demonstrates his own love for us in this: While we were still sinners, Christ died for us."  -Romans 5:8