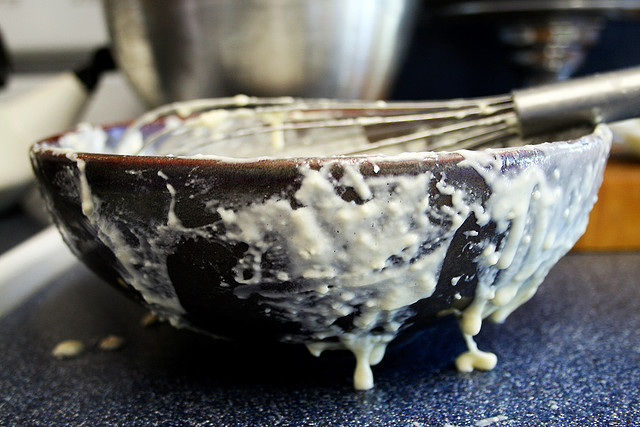 Naomi likes to help me cook in the kitchen. In fact, she LOVES to help me cook in the kitchen, and she wants to participate in every aspect of the process. The minute she sees me pulling out pots and pans or gathering ingredients, she runs for a chair, drags it to the counter next to me, and climbs on up. I love my little chef, but at times she drives me crazy! If I'm not watching closely she'll eat the food I'm trying to prepare, or grab for things that are not safe. I often wonder if I wouldn't be better off barring her from the kitchen entirely while I prepare meals.
Earlier this week we were making pancakes together. We dumped in the ingredients together. We cracked the eggs together. We stirred together. But I poured the batter on the hot skillet myself. Naomi watched what I was doing, and then grabbed a measuring cup and quickly scooped and dumped a cupful of batter near the stove. "No-no-no-no!" I yelled, afraid for her safety. Then I thought better of it, and scooted her a little closer. I explained the hot skillet, and then holding her hand, we dumped the batter in the pan together.
I've never thought much about how I make pancakes. A few circles, and then a few more. I'm usually more concerned about not burning my pancakes, than I am about the shape of them. But Naomi's pancakes were a MESS. They were lumpy shapes and spots and swirls, unevenly colored and unequally sized. I sighed as I looked at the pile of messy pancakes.
Then I had an epiphany. I've recently been looking at The Nesting Place for some creative ideas for our home. One of her favorite sayings is, "It doesn't have to be perfect to be beautiful." And that's what I realized as I made messy pancakes with Naomi. It doesn't have to be perfect to be beautiful. I was sharing my life with my daughter, teaching her, and delighting in our shared creations. The moment was beautiful, as is our relationship. We might not get it right all the time, but we're trying our best and we're learning as we go.
I wonder if our Creator looks at us the same way. Here I am shaking my head and sighing at all my perceived failures, while He sees the beauty in me and in our relationship. I see the mess, and he sees his beautiful creation.
In the end, the pancakes' appearance didn't matter at all. In fact, as I watched Naomi devour the pancakes that she had proudly made, I realized that they were the most delicious pancakes I'd had in a long time. 🙂
"The LORD does not look at the things man looks at. Man looks at the outward appearance, but the LORD looks at the heart". 1 Samuel 16:7