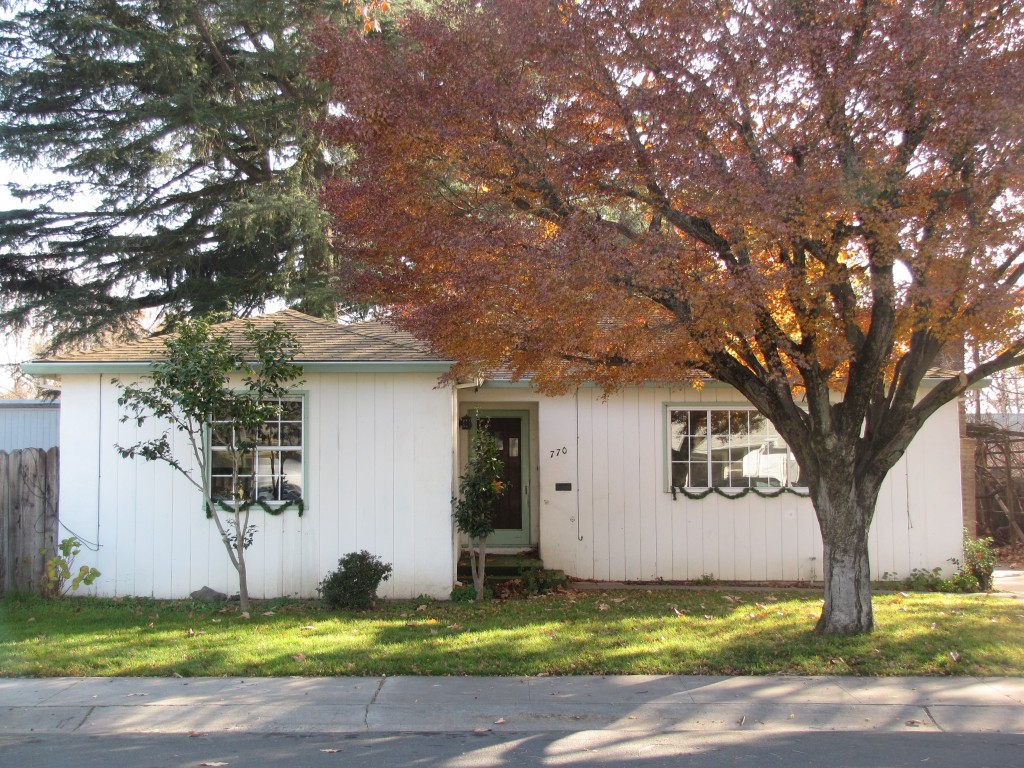 When Brad and I chose our home in California, we analyzed every last detail.  We looked at dozens of houses.  In fact, Brad still boasts (and laughs) at the elaborate spreadsheet that I created detailing all the qualities of each rental home we found on Craigslist or the various realty websites.  In the end, Brad stumbled on our house while looking at another one two houses away.  Our house wasn't listed on-line, but he fell in love with it immediately.  Once he saw the grape arbor and the giant stone woodstove in the tree-filled fenced-in backyard, he was sold.
When I first saw the house, I knew why he loved it.  The backyard felt like a park!  We have the three largest trees on our street in our yard—two cedars in the backyard, and a sycamore in the front yard.  We also have fruit trees (lemon, lime, grapefruit, peach, mandarin orange, Valencia orange, navel oranges, nectarine) , nut trees (almond), holly bushes, azaleas, lots of rose bushes, a bottle brush tree, and of course, grapes!  Inside we explored the three bedrooms with wood floors.  I loved the big kitchen, the built-in closets and shelving, and the one-story layout.  The house was not in great condition, but it had a lot of potential.  The landlord consented to some discounts if we were willing to paint and fix up the place ourselves.  I was thrilled.  I think every renter loves the opportunity to put their personal touch on a place, and I was delighted to get to paint.  With each month there is a new project to work on, but we enjoy the work and take pride in making our house a home.
Our house is in a neighborhood full of starter-homes.  It's the perfect location for our young family.  We love living in town, near all the activities provided by a city with a population of 60,000.  We attend a small Baptist church across town.  The pastor is also a writer, and the associate pastor and his family live on our street.  In fact, four young families from our church live within a few blocks of us.  Having neighbors from church is great, since one of them has recently been giving me rides to Bible Study Fellowship on Thursday mornings.  As BSF comes to an end next week, Brad and I have begun attending a Couples Bible Study/Potluck where we are reading the book, Sacred Marriage.
We live two blocks from the high school, so we walk over often for track meets, softball games, baseball games, football games, and basketball games.  Brad tutors students after school in math, and he's an assistant coach for the track team.  When the track team is practicing you'll usually find him running with the distance runners, or coaching the high jumpers.  Since we live in town, it's easy to make it to a student art show, or a track meet at the local community college.  We're also working on our substitute-teaching certification, and look forward to being able to walk to the school for subbing jobs.
Our house is also only about a mile from Brad's office.  This makes it very convenient when he has clubs or meetings to host.  In fact, since Brad is also a runner, he often runs to his office, the post office, or to other errands.  He also likes to run along the river, by way of the fairgrounds.  I can also walk to nearby parks, pools, and even our pediatrician from our house.  The library, the grocery store, the mall, and most of our other needs are only a short ride away.  There's even a coffee shop at the end of our street where Brad meets up with the other youth pastors in town every Tuesday.
We love to have guests over to our house.  We're still fairly new to hosting, but we're figuring it out as we go.  I've hosted a few play dates with other mothers and their children, and Brad has hosted twice as many youth events in our backyard.  It's so fun to see the teenagers playing games, singing songs, and roasting marshmallows or hot dogs (or bananas!) on the fire.  Recently Brad invited the entire track team and their coaches over for a "Spaghetti Feed" on a Thursday night.  Brad cooked a giant pot (his first ever!) of delicious spaghetti sauce, and Lucy and I kept the noodles coming.  I love the feeling of a full house, even if I'm unfamiliar with the role of hostess to so many people.
As I wander through our home, and explore our new hometown, I cannot imagine a better place for us.  We love this house, we love this community, and we love our new lives here.  Thank you for the role you have played in bringing us here.  We couldn't have done it without you!
Love Always,
Jessie