Yesterday morning, I was awake bright and early, but Oliver was not.  He slept through the night!  There was much rejoicing, and then the realization that I had an opportunity at hand.  So, I grabbed the breast-pump, and VOILA!  Free food for Oliver.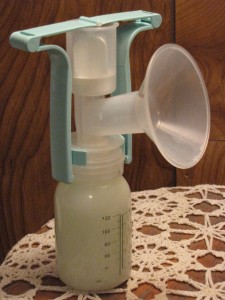 Now I know my breast-pump may appear a bit primitive to those of you who have purchased the hands-free versions.  But this little pump was FREE!
That's right–the staff at the hospital gave me this pump as a parting gift after Oliver's delivery.  In fact, I have two pumps, with two bottles each, from the births of my two children.  So what if I my hands get a little more exercise than with the more upscale versions?  I don't mind.  For me, this milk equals a night on the town with my handsome husband, or an afternoon of shopping without the kids in tow.  It's liquid gold!