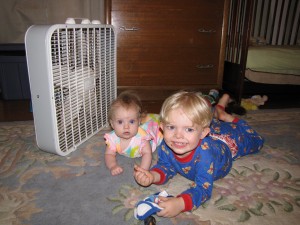 Our house doesn't have central air conditioning, so when its 110 degrees Fahrenheit outside, we get creative!
We open the windows during the cool part of the day, and close them when it gets hot.
We turn on our air conditioning window unit and our three ceiling fans.
We turn on our two box fans.
We go outside (for a run or a walk) early or late in the day to avoid peak temperatures.
We drink lots of water (with frozen lemons) and other fluids.
We wear light clothing.
We give the kids freeze-pops (or "otter-pops" as the Californians refer to them) when they come in from outside.
We play in water, like our free water table and turtle pool, or our sprinklers.
We make homemade smoothies or frappes.
We go on a field trip to a place that has air conditioning!
What inexpensive ways have you found to stay cool when its hot outside?