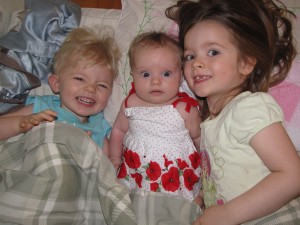 10 days ago I wrote about how I was quitting my blog.  As you can tell from the past week of blog posts, I'm having a difficult time letting go.  For one thing, my husband and parents are encouraging me to keep blogging, even if I can't do it as often or as well as I would like.  For another thing, I can't seem to stop taking photos and mentally composing blog posts in my head.  As I began to purge my computer of anything related to my blog I found more pictures and notes that I didn't want to waste.  I mean, who else will celebrate with me if I read another book, find another freebie, or do another diy project that I found on Pinterest?  So here I sit again, writing on my laptop on the couch while my 3 babies are napping.
So for now, instead of quitting, I will be changing things up a bit.  I will be doing my best to ignore the voices in my head that compare me to other "better" blogs with better Google Analytics, Pinterested images, Photoshopped photographs, Facebook "likes", income generated from advertisements, and more.  Instead, I will continue to photograph our daily life, and share what is on my heart.  Due to my other responsibilities, my articles may be shorter or less frequent than in the past.  You may have already noticed that my pictures have been smaller, which also saves me time.  I hope to be on the computer less when my children are awake, and more when they are asleep.  This will take better time management on my part, but I think I'm up for the challenge.
Thank you for sticking with this wife, as I attempt to live abundantly.  Thank you for encouraging me when I feel discouraged.
Love,
Jessie