Are you noticing a theme here?  Yes, you are correct.  The 10-year-old car that blew a tire two weeks ago, and needed all four dry-rotted tires replaced, needed to be towed this week.  It apparently had something to do with a broken shifter cable.  Nothing a "little" $200 couldn't fix.
But how were we going to get it to the garage to be fixed?  The garage recommended a towing service here in town that charges $55 for hook-up, and $2.50 per mile towed.  We only had to tow the car across town, but I called my Dad to get his thoughts.  He happened to mention that it was too bad that I didn't have AAA because towing is included with membership.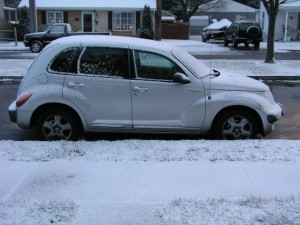 After thinking about it, I gave AAA a call.  For $65 I was able to sign up for AAA for the entire year.  Again, I am not an expert on cars or car care, but it seemed like a pretty good deal to me.  My AAA membership includes roadside assistance (towing, changing tires, jumping a dead battery, fuel fill-up, locksmith, pushing out of mud, etc), reimbursements for some expenses (emergency and accident fees), and discounts on items like travel maps and guides.  They have lots of other perks too, like discounts on movie tickets and amusement parks.  I have almost always had AAA, and have been very grateful for it in the instances where it was necessary.
So if you're going to have to pay to get your car towed anyway, you might as well go ahead and get a AAA membership for the whole year.  Especially if your car is as reliable as ours currently is!
Do you have any other suggestions for getting a car towed inexpensively?