As I have said before, one of the ways that I save money is by cutting our family's hair.  For Christmas a few years ago, I asked my parents for hair clippers.  I knew my mother would make a good choice because she's been cutting my dad's hair since they were dating!  It took some convincing, but Brad finally gave in and let me learn on his hair.  Obviously these techniques will work on any men in your life, not just your husband!
1. GATHER YOUR SUPPLIES:
Before you get started, check to make sure you have all your supplies.  I have a WAHL Home Haircutting Clip'N Trim.  Set out your scissors and combs, preferably out of the reach of any toddlers.  I also prefer to have my cup of coffee nearby if it's first thing in the morning.  🙂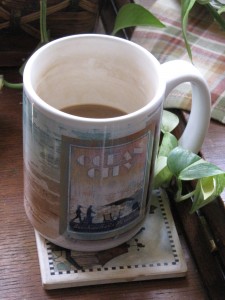 2. CREATE A HAIR-CUTTING CHAIR:
We keep old bed sheets around our house for messy projects.  I laid one sheet on the floor, draped a second sheet over the chair, and wrapped a third sheet around Brad's shoulders.  I prefer to set up my hair-cutting chair in the living room in front of the television (set to ESPN) so that Brad will sit patiently while I work!
3. WORK FROM LARGE TO SMALL:
If you look at your hair clipper guides, you will notice numbers on them.  Begin by attaching the largest numbers first, and working your way to the smallest.
Many men know what numbers they prefer, and can help you to learn what they like.  Brad prefers #8 for his entire head, #4 for the back of his head, and #2 for his sideburns.  So I cut everything with #8, then go back over the back with #4, and the sideburns with #2.
4. TOUCH-UP WITH SCISSORS AND COMB:
As you can tell in the photo above, I still have some touching-up to do.  I use the comb and scissors to shorten and straighten the hairline around Brad's ears, neck, and forehead.
5. TOUCH-UP WITH HAIR-CLIPPERS:
After I've touched-up the hairline, I like to go back with the trimmers (no guide this time) and trim the back of his neck.  It gives the hair cut a finished look, and it looks cleaner along his collar.
6. VOILA!  YOU'RE FINISHED!
Now send your handsome husband to the shower to rinse off the loose hair.  He can also touch up his sideburns and shave while he's rinsing off.  Sweep up the loose hair with a dustpan and brush.  Shake the hair out of the old bed sheets around your garden (to keep deer away from your vegetables).  Then wash the bed sheets.  Put away your supplies, and finish your cup of coffee.  Great work!