I was simply searching for an African doll. That's all.
After adopting our daughter from China, we felt called to do something specifically to give support to adoptive families. So, in the spring of 2011, we launched The Sparrow Fund to give grants to adoptive families specifically for pre-adoption counsel, medical reviews of their referral, in-country support when they travel to bring home their child, and support once they get home and adjust to life with a new child.
I was at a conference where I had had a table set up to showcase The Sparrow Fund. I had some Chinese items donated by Jiayin Designs and some other random things people could buy to support The Sparrow Fund.
And, someone asked me for an African doll. An African doll? Really? My connections were all in China. I told her I'd try but I wasn't making any promises.
That Sunday, when I got home, I e-mailed a missionary who our church supports, knowing she works with village women who do crafts. Maybe one of them could make a doll, right? The missionary told me she no longer worked with those women but gave me an e-mail to get in touch with one, Mary Magdalene (not kidding).
All I did was send her a simple e-mail asking if she or one of the women she works with could make a doll.
But, her response left me stunned.
She told me that only 4 days earlier–she gave me even the exact time of day–she had cried out to the Lord asking him to bring someone to buy her crafts.
She had been widowed twice, both husbands had been killed in war, leaving her with 9 children to raise on her own. But, what we would see as a desperate situation did not stop her from bringing 7 orphaned children into her home. One of the children she now cares for was abandoned at the age of 6 because it was discovered that she is HIV+, which she contracted from her parents, the ones who abandoned her. Mary is a strong and faithful woman who trained women in her village to make beads and helped them learn how to sell them in the marketplace. They pool the money made and split it between them so that all are provided for (Acts 4:35 lived out).
But, here she was, crying out for provision, desperate to see God at work.
4 days later, she received my e-mail. I encouraged her to send me what she had–I will find people to buy it, I told her. Just send it, I said. And, she did. She sent jewelry and more jewelry and handmade animals and more jewelry…and two little dolls. The dolls that started it all.
There I was with a dining room full of what some may see as paper beads and small animals but what I saw as precious jewels and treasures, created by women sitting together in community, caring for the least of these, in faith that He will provide.
And, He has.
We have been able to send the women there $5,000 since May–money that has paid tuitions, purchased books, paid off medical expenses, paid rent that has increased dramatically. And, we've made an extra $1,500 to support the work of The Sparrow Fund, which has brought the women in Kenya joy upon joy.
We want to invite you to our Etsy store where you can find some of the items listed. And, to encourage you to click your way over and shop with purpose, I'm offering a little giveaway here, courtesy of Jess.
Winner receives a matching necklace and earring set–keep it for yourself or give it away as a Christmas gift.
Kelly Raudenbush
To enter the giveaway, please write a comment below (before midnight on November 26) telling me which necklace or earring design you like best!  Earn extra entries by posting a link to this post on Facebook, Twitter, or your blog.  Get your entries in before midnight on November 26.  And while you're checking out her Etsy Store, you can purchase some Christmas gifts too!
Thank you for supporting The Sparrow Fund!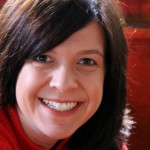 Forever changed by our experience of being adopted and adopting, Kelly is a stay-at-home mom/manager to 4 children–the youngest of whom is from China–who is a professional juggler, juggling her calling as wife and mother with a small online store (Jiayin Designs), editing, administrating the site We Are Grafted In, and serving adoptive families through The Sparrow Fund. You can learn more about their adoption story, how they've been changed, and what life for them looks like on Kelly's personal blog where she's currently featuring some great ways you can shop with purpose this season (which includes over 25 giveaways).