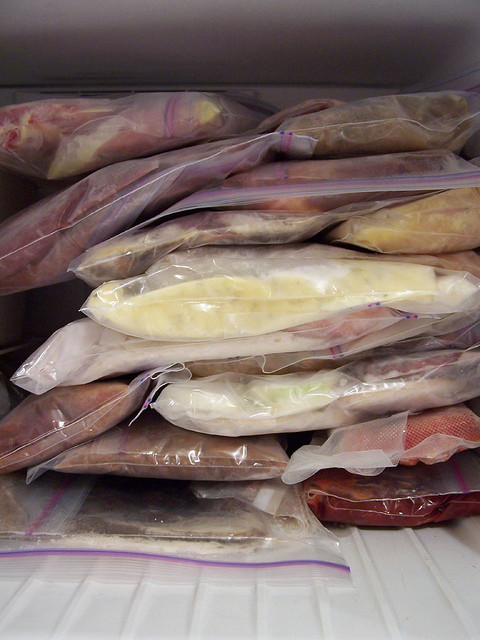 In the next week or two, I will become and Aunt for the first time!  My sister Kerri is expecting a little boy, so Brad and Naomi will fly home to California while Oliver and I will stay to meet the little guy.
Brad and Naomi will be on their own for about a week.  When Brad is in the kitchen, you'll usually find him making peanut butter sandwiches, fruit smoothies, and "Pan" soup (something like "Stone Soup").  So before we left California, I did some "freezer cooking" to give them a little more variety.  I filled our freezer with meal-sized portions of some of our favorite meals, to tickle his and Naomi's tastebuds:
2 Bean & Meat burritos
12+ Servings of Soup (Bean Soup & Potato Soup)
12+ Cinnamon Apple Pancakes
12+ Chocolate Chip Pancakes
36+ Chocolate Chip Cookies
4 Loaves of Bread
5 Frozen Orange Juices
By "Freezer Cooking" I was able to prepare these items more three weeks in advance.  They will save our family money because the food in our house won't spoil, and when Brad returns to California he won't need to purchase convenience foods.  The pancakes, soups, and burritos did not take me long to prepare because I cooked them as I was in the kitchen cooking other things, or I simply doubled my recipes and froze the leftovers.
When I was a kid, my family always prepared meals to take WITH us when we vacationed, saving us the money that would have been spent dining out.
How have you used freezer cooking to save money while you vacation?