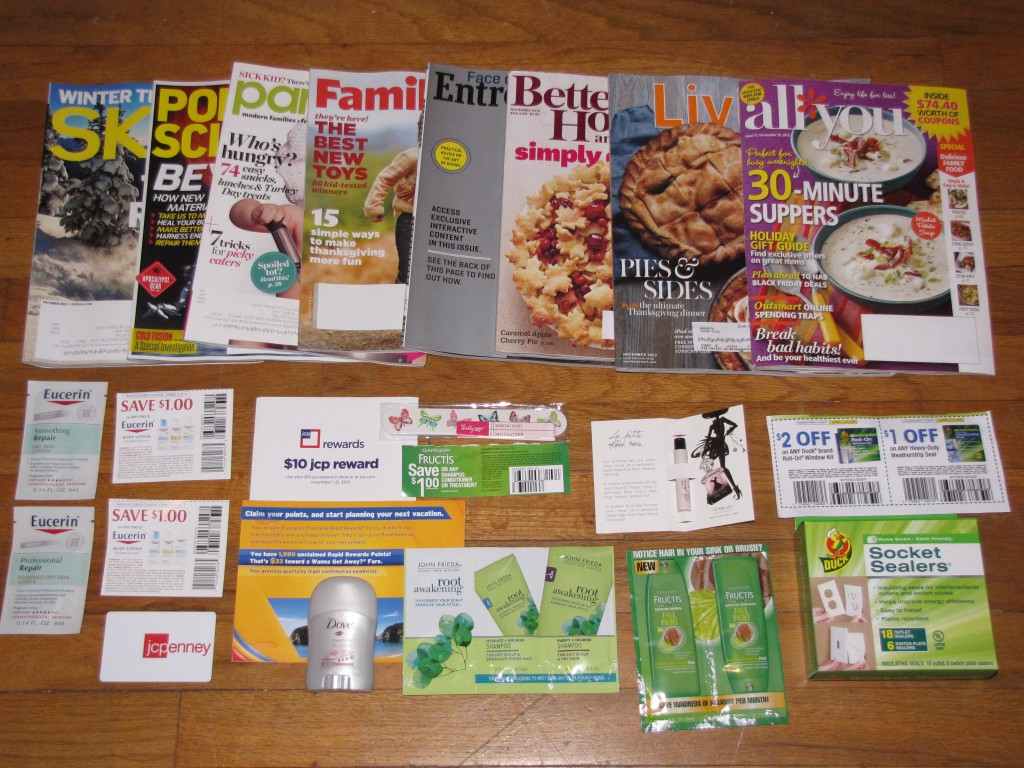 It's time again for Freebie Friday!  This week's round-up included some really great stuff!
Magazines: Ski, Ski Utah, Popular Science, Parenting, Family Fun, Entrepreneur, Better Homes & Gardens, Martha Stewart Living, and All You
Eucerin (2) and coupon (2)
JCPenney $10 Gift Card (for completing a Stonebridge Life Insurance telephone survey)
JCPenney $10 Rewards
Dove Deoderant
$33 Southwest Rewards (Has anyone done this before?  We haven't claimed our rewards yet, but we like flying Southwest.)
Root Awakening Shampoo (2)
Garnier Fructis Shampoo & Conditioner and coupon
Thirty-One Nail File
La Petite Robe Noire Perfume by Guerlain
Duck Socket Sealers and coupon (2)
Taco Bell Locos Tacos (4)
21 Days to a More Disciplined Life E-book (A perk of being an affiliate!)
Frumps to Pumps E-book (My 1st time as a Money Saving Mom Giveaway winner!)
Schick Hydro 3 Razor (and coupons)
Ghirardelli 5.3 oz bag of dark & mint chocolate squares
$0.12 Dora Halloween activity booklet
Pond's Luminous Clean Cream Cleanser (and coupon)
Green Mountain Coffee Original House Blend (and coupon)
Bear Naked Nut Cluster Crunch (and coupon)
Jennifer Lopez "Glowing" Perfume
Halloween: FREE Harvest Festival at a local church with Trunk-or-Treat, Games, & Activities for little ones
Sikh Parade: FREE Starbucks Frappuccinos, Gatorades, Capri Suns, Apple Juice, Tootsie Rolls, Curly Fries, and Indian food (Samosas, Bananas in Curry Sauce, Chickpeas in Curry Sauce, Yogurt, Trail Mix, Desserts, and more)
Election Day: FREE 4 cookies at the Cookie Tree (for showing our "I VOTED TODAY" stickers and 2 cupcakes at our polling location from one of the officials.
And some freebies from this morning's visit to the dentist:
Johnson & Johnson Total Reach Care Floss
Colgate Total Floss
6 Boxes of Sensodyne
1 Box of Colgate Total
Listerine Total Care
Colgate Wave Toothbrush
What FREE things has your family received or enjoyed recently?