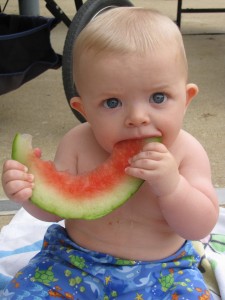 Every Thursday for the past month, I have packed the kids up for an afternoon of fun at "Daddy's Work." Naomi can tell you that Daddy works at the "Water," also called the "Pool."  They "Jump" and eat "Pizza" and sneak "Tookies" (cookies) when Mommy's not looking.  There is also a Water "Slide" and a Moon Bounce full of "Balls."  Naomi likes to watch the "Kids" (Staff) play volleyball and basketball.  Sometimes we even spot a "Horse"!  Today Oliver teethed on a watermelon rind while Naomi spent most of the time in the pool with Daddy.  We love getting to see where Daddy works, interact with his coworkers, and play together as a family once a week!
Here are a few other free or inexpensive aspects to this weekly expedition: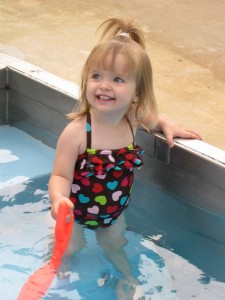 What fun and inexpensive activities do you enjoy in the summer months?