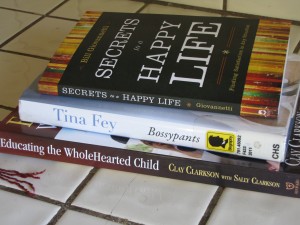 I have to be honest with you, one year ago when I wrote my six goals, I really did not believe that there was enough time in my day for reading.  I especially did not believe that there would be enough time in my day for reading after delivering my third child.
Yet, as of today, I have read 4 e-books, 13 books, and I am halfway finished 3 more books…in 2013.  This just boggles my mind–that I have read almost 20 books in almost 5 months.  Here is how I found the time to read:
All three of my kids sleep through the night, and take a good long afternoon nap.  That means I get downtime every day.
We don't own a television.
I gave up Facebook for the 40 days of lent.
I stopped blogging for a few months.
I do things that my kids can participate in (housekeeping chores, outside chores, errands) while they are awake so that I can read while my kids are asleep.
I carry a book in my purse when I go to appointments, instead of reading magazines.
I read even if I can only read for a few minutes.
I read when I'm nursing the baby, or before falling asleep at night.
Do you love to read?  How do you find time in your day for reading?